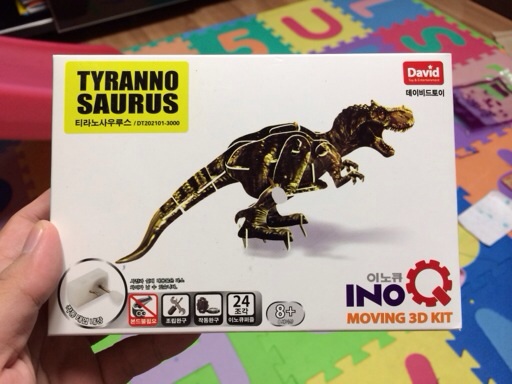 Palmtop Tyrannosaurus
There hasn't been much of wind-up toys in the house that my kids could get their hands on. I wanted to fill this hole a bit, but past experiences told me that kids don't play with one toy too long, so I should save money and go for some variety. For this, this little assembly kit series called "InoQ" from David Toy seemed to be a good idea.
I bought a Tyrannosaurus model from a local discount warehouse, which cost about US$3. It was on the low-end of assembly kits as far as price goes, but it said it would move, so it looked better than the stuff that you build and doesn't do anything else after. It also didn't look very sturdy, but considering the price, I thought it should be good enough for several minutes of enjoyment.
And boy, did it give us enjoyment.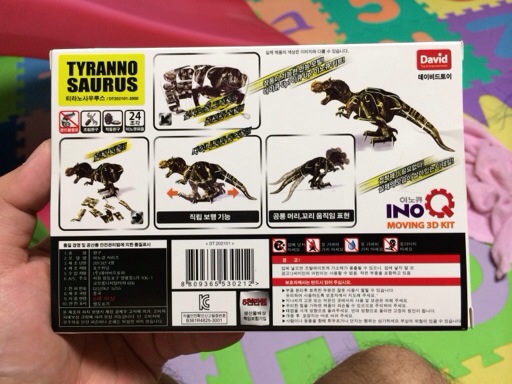 Back of the box tells you what the dinosaur could do
The box told me what it comes with, and how it would move. Apparently, the legs would move and make it walk forward, while the head and tail would move around, as well. That seemed to be relatively sophisticated for a toy that's cheaper than most.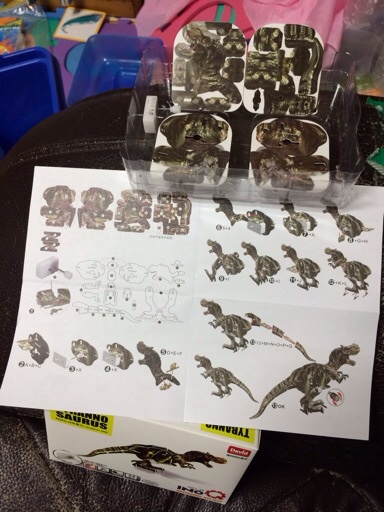 Contains instructions, plastic pieces, and gearbox
Opening the box, I found a leaflet containing assembly instructions, four plastic sheets containing pre-cut pieces, and a wind-up gearbox that would power the toy.
The plastic was stronger than I expected, but not brittle, so it could handle some abuse without too much issues. The pre-cuts were done well and the pieces could be popped out with an included tool. Edges weren't too sharp, either.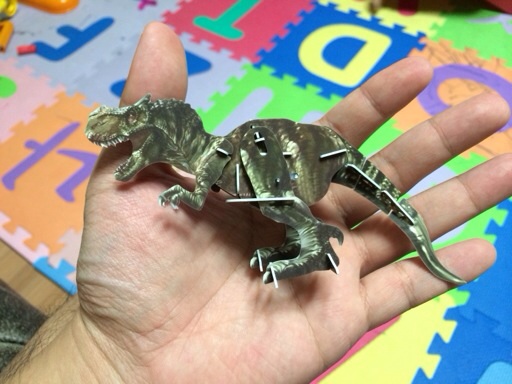 A dinosaur that fits in your hand
The assembly instructions were okay, but a couple of steps were confusing and I initially ended up with a T-Rex that dragged its face into the ground. After I found out what was wrong and reassembled it, its head was properly lifted up and ready to nod.
When I wound up the gear and put it on a flat surface, it began to stomp its way forward, nodding its head. Its tail would move as the body shook in motion. It's just as it was claimed on the box. Pretty cool. Let me show you this for real.
The funny thing is, my daughters didn't like dinosaurs and initially shunned this toy. But after seeing it in action, they came to like it a lot. That's an indicator that I should get the rest of the series.