Fun Fact: I have never actually written a proper 'profile page' on my website during a decade of being online. There has always been 'contact info' page, but it's not the same. It sort of adds to the mystery, but then again it's one of those things I need to put a check mark next to my big list of things I haven't done. You're in luck.

1. My full name is
Wesley Woo-Duk Hwang-Chung
. The last name combines my mom and dad's family name, in that order. Wesley is my English name, and Woo-Duk is my Korean name. Until 2004 I was called
Wesley Chung
so don't get confused.

2. I'm often seen on the online community by the handle and/or nickname of
wesley
or
wesley96
. There are a few instances when I go by
WDSoft
or
univbest
. I frequent several computer hardware / Macintosh / PDA communities around the globe, but I may not always be an active member.

3. I was born on the Armed Forces Day (Oct. 1) in
1980
, at the industrial capital of Korea,
Ulsan
. Ulsan is known for many things, one of which is a gigantic Hyundai car plant. I spent my childhood in
Canada
, however, which explains why I can communicate in English with ease.

4. I can speak four languages:
English, Korean, French, and Japanese
. French is rather rusty since I haven't used it much since leaving Canada. As for Japanese, I'm following the footsteps of my dad (no, he's not Japanese).

5. I actually
lost 30kg
over the course of 8 months in 2004 in order to get in shape. What a world of difference that made. My waistline was reduced by about 9 inches. If you browse the pre-2004 archives, none of the pictures of me comes close to what I really look like nowadays.

6. I still like
pizza
a lot. I order from Pizza Hut quite often. Sbarro is my other preferred pizza parlor, but it's hard to find in Korea. Another favourite food item is
canned tuna
. I keep a stock of dozens of tuna cans at all times, along with about the same amount of 'hermetically sealed cooked rice' packages. Canned tuna goes really well with rice.

7. I can be contacted at
wesley96 (at) gmail (dot) com
. Hey, you can never be too careful of those scheming e-mail bots. You want cellphone number?
+82 10 3139 3039
. Don't forget your international dialing code first. Locals can replace '+82 10' with '010' if that wasn't obvious.
Okay, enough about me. Let's talk about the computer system that's running this place.

1. The website is running on my
Mac mini
computer. This is no ordinary version, however. It's
overclocked
(1.42GHz -> 1.58GHz) and has all the specs maxed out (1GB of RAM, 7200rpm HDD, bluetooth, WiFi, DVD writer, etc.). I might need to write up about this some day.

2. Since it's a Mac, and I'm no Linux junkie, it runs on
Mac OS X 'Tiger'
10.4.2 at the time of writing. It's quite a competent operating system and despite the Windows-centric world I'm very comfortable with it. No doubt I place my trust on it to run the website, while I also meddle with other things with it at home.
3. To have the website functioning as it is, it has a suite of Apache - MySQL - PHP installed. I had a fair share of setting up this fairly common 'AMP' (or APM) suite on Windows machines, but it was even easier on a Mac. No surprise there.

4. Pretty much
all the stuff
were obviously done on the
Mac
and the default
Safari
web browser was used for the testing, and it turned out just fine. Internet Explorer doesn't have problems with it and neither does FireFox.
We need more websites like this that work properly across all current browsers.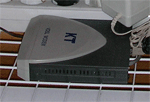 5. This time it's
personal
. There's no backbone connection involved like the old site, but it looks like I won't be needing one at the moment. The system is connected to the internet via single
VDSL line, 12Mbits Up/Down
. It should manage well since this place is not made to be a bandwidth hog.
6. I've always left my computers on all day. Since I started using Windows 2000 half a decade ago on another machine they didn't even require reboots for several days or even weeks. This Mac mini is no different. I think it's pretty reliable as things go.