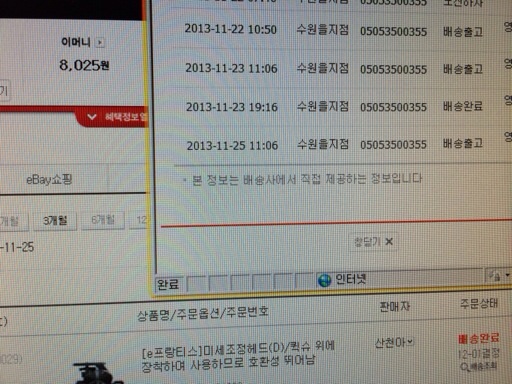 Third time's the charm?
I ordered an equipment on Thursday through Auction (kind of like eBay and is indeed run by eBay Korea). It was shipped out on the same day via KG Yellow Cap (kind of like FedEx), and usually, it should arrive a day later. What the picture tells you with "배송출고" on 22nd, 23rd, and 25th is that the courier went out with the package with the intent to deliver it to my doorsteps.
Well, it's still not here as of this writing, although I've contacted the courier in question and he told me he'll really try to deliver it today. One problem is that he errorneously tagged it as "배송완료" on the 23rd, which means it arrived at the destination. This told Auction that the shipment has basically been fulfilled, and unless I tell the system otherwise, it'll automatically complete the whole transaction in exactly one week, which is on December 1st, which is what "12-01결정" at the bottom means.
I think the system just recognizes any "배송완료" string as the shipment completion and ignores anything that subsequently happens. This sucks, because the counter has gone off earlier than it's supposed to and it has no intention of reverting.