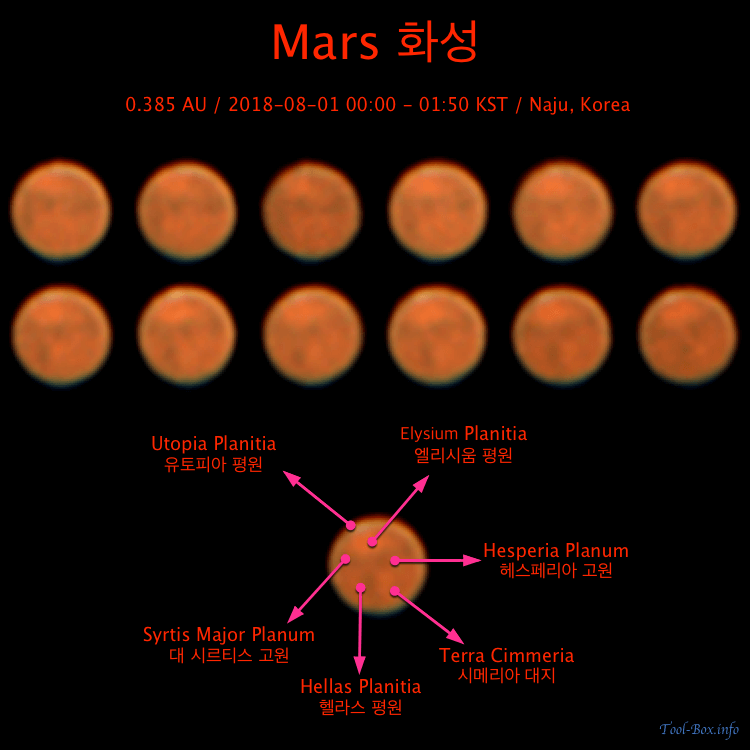 Mars as seen in 10-minute intervals starting from the midnight of August 1, 2018
Mars comes close to Earth every two years or so, but due to the elliptical orbit the closeness varies a lot. It came as close as 0.373 AU in 2003, while it was 0.674 AU away at its approach in 2012. The closest approaches happen every 15 or 17 years, and the latest one happened on 16:50 KST, July 31, 2018, at a distance of 0.385 AU. The next one will happen in 2035. Since this year's occurrence happened during the day, I did the next best thing and got my telescope set up that night to take a good look.
Unfortunately, Mars is experiencing a planet-level dust storm since early June and it has not subsided yet. A peek at the planet during
last week's lunar eclipse
indeed showed a mostly uniform orange disk, confirming my fears. I wasn't about to give up, so I got my Baader filter out and hoped for the best. Thankfully, the two-hour shooting session did not go to waste as the hours of post-processing finally revealed some discernible surface details, as you can see here.
You can even observe the planet visibly rotating in this video that incorporates all the photos I took. It's similar to
what I made two years ago
, but the continuous shooting made for a more fluid animation.
Telescope: Celestron NexStar 6SE
Device: Sony A5000 (prime focus)
Settings: (1500mm) - ISO 100 - 1/100s - (f/10)
Filters: Baader Moon & Skyglow
Time: 2018-07-31 23:59 - 2018-08-01 01:50 KST
Location: Naju, Korea
481 photos processed with PIPP 2.5.9 and RegiStax 6.1.0.8