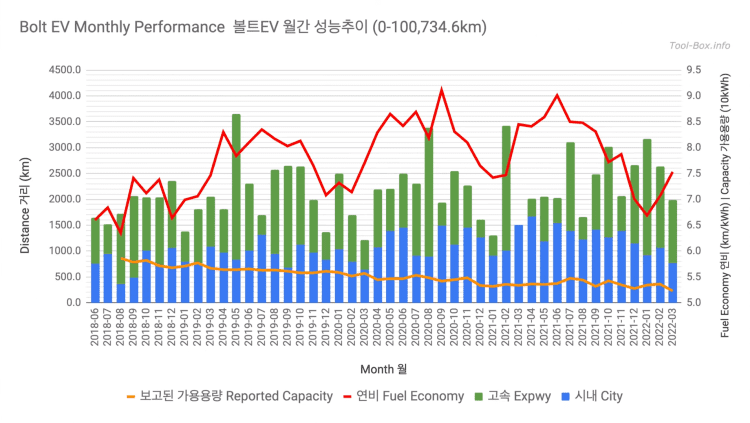 On March 27, 2022, after nearly 46 months of driving, my Bolt EV's odometer hit 100,000km. Considering that it isn't used for commuting most of the time, this is a relatively quick achievement. Of the 100,734.6km driven in 46 full months, 48,588.7km was done in the city while the remaining 52,145.9km was on the expressways, so at 48:52 ratio it's got a balanced use. As for the efficiency, the car spent 13,016.1kWh, so that translates to 7.74km/kWh overall. It's well over the official numbers, so that shows how conservative I drive.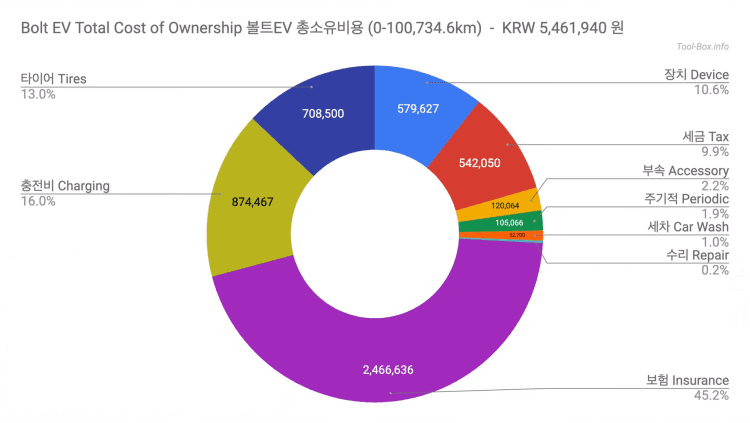 During this time, I spent KRW 5,461,940 (about US$4,440) on the car, excluding toll. Interestingly, the insurance and the tax accounted for more than half of the total. This reflects how relatively little I need to pay for the charging and maintenance. In fact, I spent just KRW 874,467 (US$710) for charging, which is less than 1/6 of the total. And other than the tires, the periodic maintenance costs were insignificant.
There's a good reason why I spent so little on charging.
Continue reading "Bolt EV's economic relevance at 100,000km"