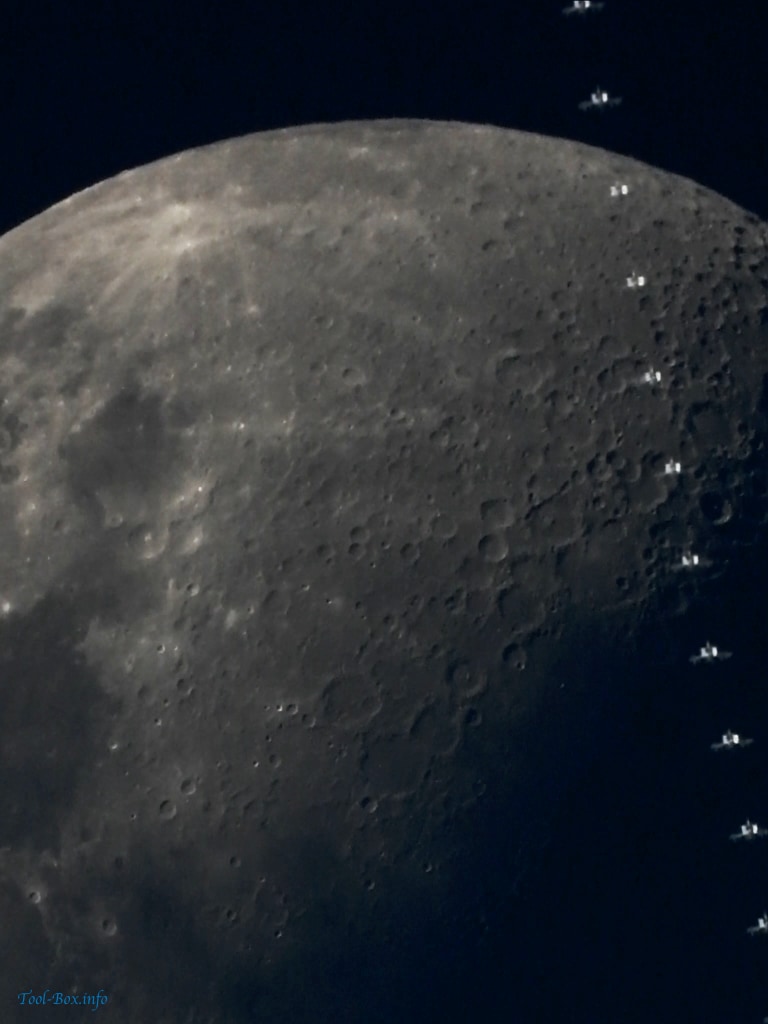 While the Sun is up in the sky, the Moon is still visible at the right phases due to its brightness. Although the Int'l Space Station can also become bright, it's only visible shortly before to about an hour after sunset. So when I found out that it was to pass in front of the Moon while the sky was fairly bright (36 minutes before sunset), I wasn't sure of the results. Would it look brighter or darker than the Moon? Would it even be visible when it's not in front of the Moon?
These questions were cleared up when I got the Moon at that moment on video. Because of the uncertainties and the quickness of the pass, I used 4k 30fps recording instead of the usual 7-frame burst mode on the P1000 camera. The prediction calculation was slightly off and the ISS was not centered, but I still managed to get more than 10 useful frames. The fuzziness is due to video compression, but it's far better than nothing. Interestingly enough, the radiators on the space station were quite a bit brighter than the surface of the Moon in general.

When we take a closer look, the prominent features of the ISS are easily discernible. The solar panels are stretching from top to bottom, while the Russian modules Zvezda (right) and Zarya (center) are more illuminated than the multi-national modules on the left. Considering this success, it looks like I should try the video recording again for the next ISS pass.
Device: Nikon P1000
Settings: 3000mm - ISO 400 - 1/1000s - f/8
Filters: None
Time: 2021-03-22 18:10:36 KST
Location: Buan, Korea
12 video frames processed with Pixelmator Pro 2.0