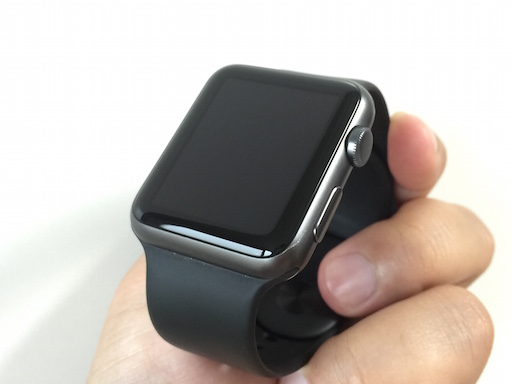 There's a small scratch on the lower right corner of my Apple Watch
As it's about a week away from Apple Watch's official launch in Korea (and other 2nd wave countries), I wanted to provide an update on the current state of my watch. This is to hint at its durability and upcoming functions.
On the durability side, things are more or less as expected. As I went traveling in New Zealand, the watch accidentally brushed with the walls of the buildings a few times while walking around. It left two slight scratches, one on the aluminum frame and one the glass. The latter is nearly invisible unless seen at a right angle under a bright light. Sapphire glass would've fared even better, but the ion-hardened one on this Sport version seems to be alright, too, given that's all it's gotten after kisses with rough surface.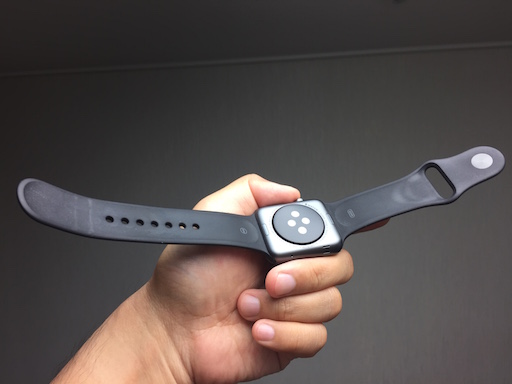 Area on the band with lots of rubbings appear bright under the light
As for the band, the front side had no visible changes. The back side had been showing marks where rubbings happened only a few days after wearing, but they had no effect on the functional and performance aspects of the band. So unless you take the watch off your wrist to see the marks, you won't be able to tell the difference from day 1 to day 45 use.
Considering all this, I think Apple Watch Sport should be quite usable for a long time, under normal circumstances. Meanwhile, I also had the chance to explore the upcoming OS, watchOS 2, as WWDC 2015 event unfolded nearly two weeks ago.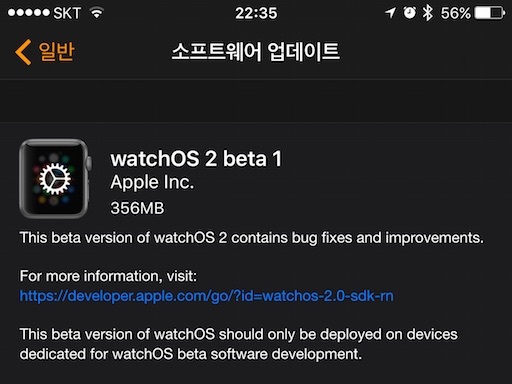 Getting watchOS 2 on my Apple Watch
My iPhone 6 Plus first had to be upgraded to iOS 9 beta 1, then I had to install a special profile to the Apple Watch. This let me install watchOS 2 beta 1. Not only was the process complicated, the watch was no longer able to communicate with my iPhone after the upgrade. This showed the roughness of this early beta.
Since there was no way to go back to 1.0.1 version, I had to reset the watch and start from the beginning again, leading to a two-day loss of fitness data. This was only the beginning of my regrets about upgrading to a beta version, but more on that later.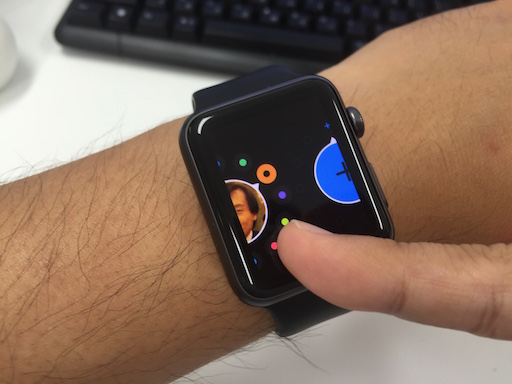 You can add more than 12 contacts on the favourites
There are some interesting features on the new OS that are worth looking forward to. The major one, of course, is being able to run native 3rd party apps on the watch so that an app isn't dependent on the paired iPhone. This should improve responsiveness and make them more functional. But of course, this couldn't be tested with existing apps yet.
So I took a look at the basic OS improvements. Being able to add more than 12 favourite contacts is one of them. This should be good for those who needs to have more than a dozen contacts handy. You can swipe between the additional rings of contacts.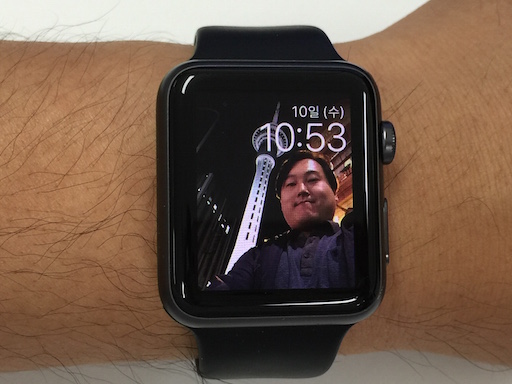 You can have a random photo from your collection as the background
More watch faces are also coming, as well. Sadly, 3rd party additions are still not possible, but at least now you can have your photo collection randomly appearing below the time, which seems to be about as custom as you can get for the moment. Just setting a single photo isn't apparently possible yet in beta 1, although that should be possible with official release. Another new watch face shows a time lapse video of one of the five places that you can choose.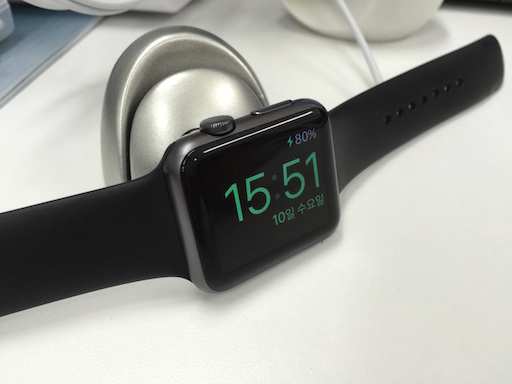 watchOS 2 Nightstand Mode in action
Another interesting feature that stands out is this Nightstand Mode. It works when the watch is set to the side while it's charging. Current time and the amount of charge appears along with the current alarm setting, making it some sort of a miniature alarm clock. The physical buttons act accordingly - press the side button to stop the alarm, or the digital crown to snooze.
Personally, checking the amount of charge this way was quite convenient because I didn't have this as a complication on my watch face, and I have it lock automatically when it's not on my wrist. To check in this configuration, I have to put the password in, then swipe up to show the battery glance. With the Nightstand Mode, I simply have to tilt the watch to the side.
As a matter of fact, I have to use this feature a lot because watchOS 2 beta 1 has a terrible battery life. I've mentioned before that the 1.0 / 1.0.1 version gets more than 24 hours of use on average, but I'm getting somewhere between 12 to 18 hours with this beta. So it nearly halved the time I can go on with a single charge. The same can be said of iOS 9 beta 1. I have to have an external battery and a charger handy for the time being because I may need to recharge both my iPhone and Apple Watch in the middle of the day and see if it's charged up enough. Hopefully, this would be alleviated in the future betas.
To summarize, Apple Watch Sport is durable enough and don't update to watchOS 2 beta yet.