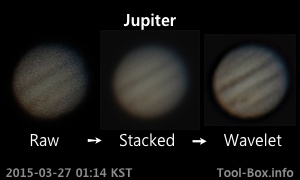 Getting sharper image of Jupiter from SX50 HS without using integrated zoom
After
fixing the collimator screw problem
, I spent some time getting my Celestron NexStar 6SE properly collimated. To see if this improved the sights, I pointed the telescope to Jupiter. Sure enough, I could see the details of the clouds on the surface much better. I could even make out the Great Red Spot.
I wanted to capture this on camera, so I attached my Canon EOS 450D DSLR directly to the telescope tube for some prime focus astrophotography. But for reasons I still haven't figured out yet, the photos couldn't resolve any details - the planet was just a yellowish disc. I'd have to take photos of the Moon to see what's going on in the coming days.
Still, I didn't want to waste a good sighting opportunity, so I pulled out my usual astrophotography gear, SX50 HS, and took the photos of Jupiter through the eyepiece and the barlow lens attached to the Celestron NexStar 6SE without using the optical zoom. This yielded a pretty good result, especially considering that I just held the camera up the eyepiece by hand. The disc is also about 2.75 times the diameter compared to what would've been possible with the camera's integrated 50x zoom (0.53 vs. 1.46 arc seconds).
Telescope: Celestron NexStar 6SE + 25mm eyepiece + 2.5x barlow
Device: Canon SX50 HS (afocal)
Settings: 24mm - ISO 80 - 1/80s - f/3.4
Filters: None
Time: 2015-03-27 01:14 KST
Location: Naju, Korea