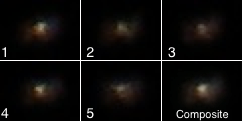 International Space Station got caught streaking across the sky
Tonight's clear skies gave me a great opportunity to photograph the International Space Station outright. I didn't know what settings to use, however, so I made a guess. It was okay when it was streaking across the western sky with magnitude of around -2. As it went south, it became brighter, and the shots came out a bit too bright.
At least I got a handful of useful glimpses out of it early while using the tripod to stabilize the camera and trying hard to track it with hand. In the end, the trademark solar arrays and the central area where the astronauts are staying were visible - you can see it as something similar to
H
.
Settings: Canon SX50 HS - 1200mm - ISO 250 - 1/400s
Processing: 5 photos stacked with RegiStax 6.1.0.8
Time: 2013-08-26 20:03 KST