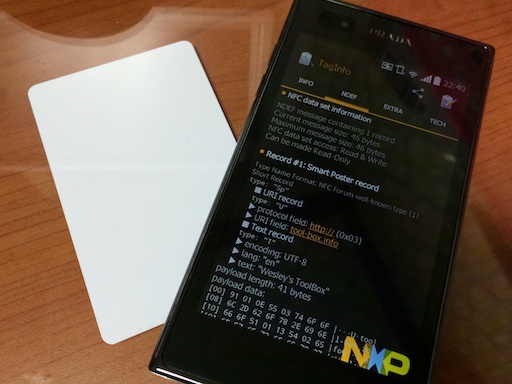 Blank RFID card formatted to work as a tag
Late last month, there was an RFID-themed expo called
RFID/IoT World Congress 2013
in COEX. The entry badge happened to contain an RFID card that you could use to tag at a booth so the company running it could know that you visited. It turns out that the card is basically a blank RFID card. My contact info must have been paired to the card's serial number, and the terminals merely checked the number and pulled the paired contact data from a central database.
When I took it home and poked it around with the only NFC-enabled smartphone I have, LG Prada 3.0, the card was a generic MIFARE Ultralight card without any locks or data. These types of card can only contain 64 bytes of data, 48 of which is user-programmable, so it's apparently very limited and cheap. That seems to be a sensible choice for something to hand out to thousands of visitors.
Because it was initially unformatted, regular NFC apps on the phone refused to do anything with it. But with the
NXP TagWriter
app, I was able to format and write data into it at once. To test, I tried to program the URL of this website and its title into it. It ended up being 47 bytes total, and the card reserved 2 bytes for something else, so it went over the storage limit. I omitted the hyphen and I was able to write the data successfully. When I tag the phone with it, it would load this website.
Looks like I should try to find some cheap MIFARE Ultralight cards like this one and happily program all sorts of things to it.