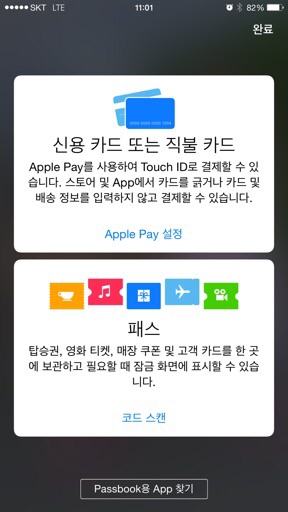 Passbook app on iPhone 6 Plus shows Apple Pay option
iOS 8.1 update went live early morning today (in Korea Standard Time). This brings a lot of improvements and fixes, but also enables Apple Pay function for iPhone 6 and 6 Plus. In the Passbook app, a new option to add cards to work with Apple Pay is supposed to show up.
Unfortunately, this is only available for the people in the United States at the moment. In fact, if you're using iPhone 6 series outside of the US, it is highly likely that the Passbook app will not show the Apple Pay option at all, as if the function does not exist. This was probably to prevent any confusion about the function that won't currently work in the user's region.
Of course, there's an easy way to force the Apple Pay option to show up if it doesn't. Go to Settings app, and under
General > Language and Region > Region Format
, set the region to
United States
. Once you've done that, the Passbook will show the Apple Pay option. You do not have to reboot, or tweak any other settings. As you can see, I'm on a Korean mobile carrier (SKT), the language setting is in Korean, and iTunes and iCloud are all logged into my Korean account.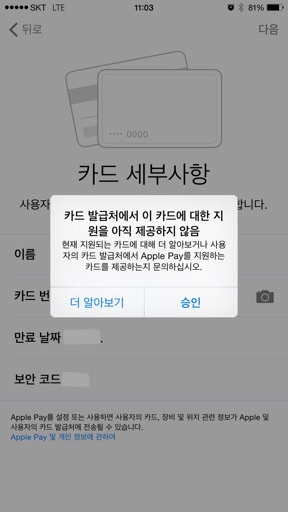 My credit card can't be added, though
Once you're able to go into the Apple Pay settings, you can try to add the credit card that you have on your hand. The iPhone will be able to recognize the card number via camera, as well. Once the card number, expiration date, and verification number are put, Apple will try to check to see if it'll work with Apple Pay. Unfortunately, the check will fail like this if the card issuer isn't participating.
As of this writing,
credit and debit cards issued by nine US-based banks
will work and nothing else. Further roll-out seems to be US-only in the near future. If you do have an eligible card, you can add to the Passbook app and make payments on any NFC-enabled card processor, including vending machines.