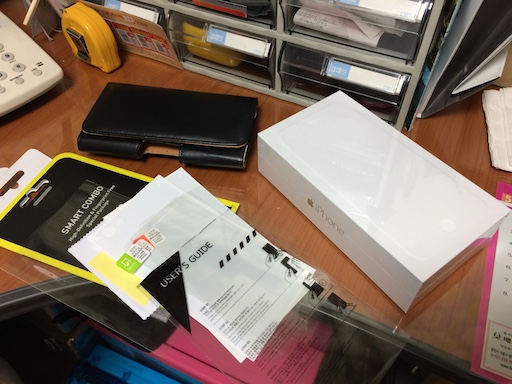 My iPhone 6 Plus is ready
As my iPhone 6 Plus came home safely, the screen & backside protector set and the belt case, both of which I ordered online earlier, had arrived as well. It meant that I would be able to protect and carry the device from day one. And thus, I proceeded to get the box opened.
And this is the unboxing video I took. The honour of actually opening the box went to my daughter Celine. She's getting good with handling tools nowadays. Other than the fact that the iPhone itself was really big, everything else was quite similar. I suppose you don't need to change what works well.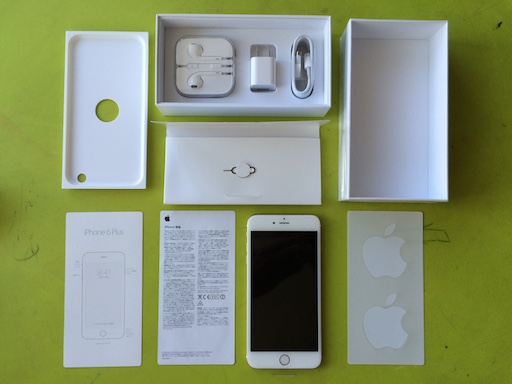 The contents of the iPhone 6 Plus box
As you can see, the box contains the iPhone, EarPod earphones, USB charging adapter (coming from Japan, it is the same small one used in the U.S.), lightning cable, instruction manual, warranty card, Apple logo stickers, and SIM removal tool.
Interestingly, the manual and warranty card are slimmed down to just a single page now. Just like how the box itself no longer has the iPhone's image printed on it, they might be cost saving initiatives at work. I guess Apple knows that people don't really pay much attention to those stuff.
The golden back side of the iPhone 6 Plus
Turning the phone around, the colour I chose (Gold) becomes immediately obvious. But so are the thick white lines on the top and bottom areas. I don't mind it, but some people I showed the device to felt it looked less Apple-like. For those people, I think the silver colour should fare better, as the lines are grey and nearly matches the body colour.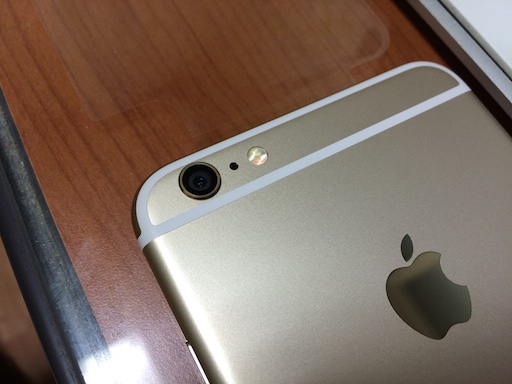 The protruded camera lens of the iPhone 6 Plus
And then there's the protruding (by 0.77mm) camera lens that made some people uneasy. It's not sticking out of the surface all that much, but it is noticeable.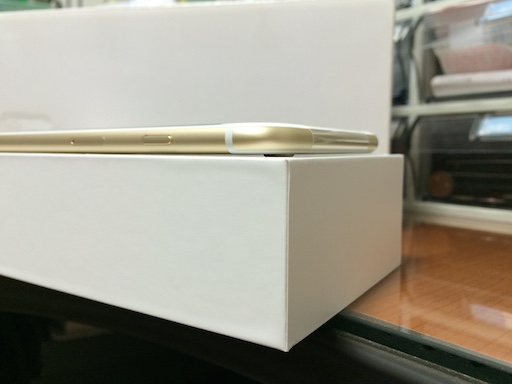 Camera lens pushes the body from the surface slightly
Putting the device on a flat surface, the top part of the phone gets slightly elevated, so now the bottom of the phone has less chance to gather scuff marks. On the other hand the outer rim of the camera lens becomes somewhat more vulnerable. I suppose if you get a case that's at least 0.8mm thick, then this will become moot.
But does it move much on a flat surface? As this video I took shows, on three corners the phone stays put. Only on the top left corner does it budge slightly. Unless you're touching down too much on that corner, the phone shouldn't move around while you manipulate the screen.