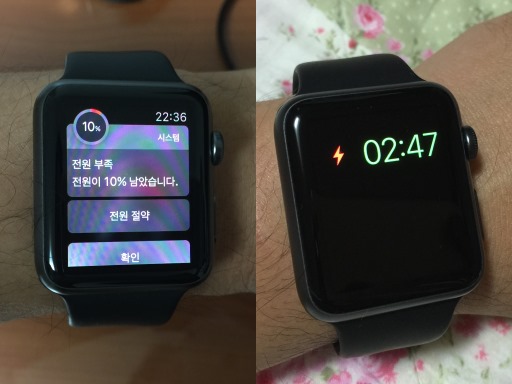 Apple Watch gives warning at 10% (left) and enters Power Reserve near 0% (right)
With some of the smart watches or bands lasting a few days to a week, Apple Watch's claim of an 18-hour use for a typical day in case of the 38mm version was viewed as being too short and even the worries about the device not lasting a full day came about. Apple did claim that the 42mm version had a larger battery and would last somewhat longer. With all these in mind, I decided to log the daily battery status of my 42mm Apple Watch Sport for the past three weeks.
So how was it? First of all, Apple Watch doesn't say anything outright about its battery status unless it drops to 10%, at which it displays the warning you see above. (You could check the exact amount of battery left from one of the Glances whenever you want, by the way.) Personally, it was rare for me to even encounter this message at the end of a normal day, as you'll see later. So that alone tells you that the device is good enough for a full-day use. If you do get to see the warning, you could choose to enter the Power Reserve mode or ignore.
Power Reserve mode shuts down every function except the the time-telling ability like you see above so that it'll function as a watch as long as possible. When the battery does go near 0% (I think it happened around 2% remaining), it'll automatically enter this mode anyway. It's a last ditch effort to maintain its identity until you're able to charge it back to its normal life, so it'll be good if it could be avoided as much as possible.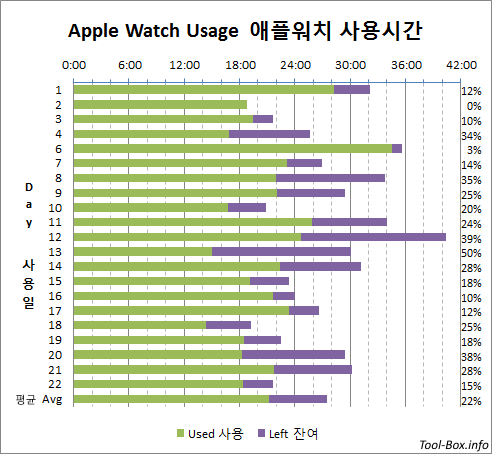 3-week graph of Apple Watch usage time
This graph shows the result of the three-week use, which included all sorts of different usage patterns. Some involved heavy testing; some days I was traveling overseas; and some days I wasn't doing much but mostly sit around the office. All these were boiled down to these coloured bars - green bar represents the actual use time for the day, and the violet bar is the estimated time left until the battery runs out based on the remaining battery percentage noted on the far right.
On average, I got 22 hours and 12 minutes of use per day, with 6 hours and 17 minutes of use left, or about 22%. At no time did the combined time dip below 18 hours. These all clearly indicate that the 42mm version can last one full day of use. And if you forgot to recharge before going into sleep, you still have a good chance that it'll at least last the morning until you can get a two-hour charging session then.
What's also clear is that it will not realistically last full two days unless you use it really sparingly, so you need to get used to a daily recharging routine. Personally, I try to recharge about two hours before bedtime and get into sleep with a fully charged watch. I'm fine with this, but for those wanting to minimize the gap as much as possible, it might be disappointing.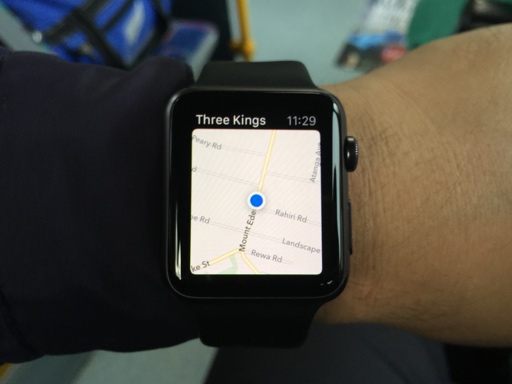 Traveling around Auckland, New Zealand with Apple Watch
First day of use was more about getting the watch up and running, having stuff set up, and generally trying to get comfortable with it. I had the notifications turned on for all of my 220+ apps to be sent to the device except for Mail, and I re-enabled news flash notifications for the news apps as well. Then on the second day, I tried poking around with all the functions the Apple Watch had to offer, which effectively drained the battery at the end of the day.
Then on day 5, I went on a business trip to New Zealand, taking flight lasting about 11 hours. The Apple Watch kept recording my heart rate and I checked the time every now and then, but there was no internet connection, cutting down on notifications significantly. When I arrived at the big island nation on the southern hemisphere the next morning, there was still about 40% of battery left. After taking another 1-hour domestic flight, I kept using the watch sparingly. The battery was nearly drained as I came to the hotel at the end of the day 6. This was the one time when the watch virtually lasted two days.
Days 7 to 10 were filled with traveling around the country with lots of walking - about twenty thousand steps per day. I had roaming data enabled on my iPhone, so the notifications came in normally. You can see that the usage time is quite similar to other days, even though I may have been loading weather and map apps a bit more than usual. I came back to Korea on day 11 with a 12-hour flight.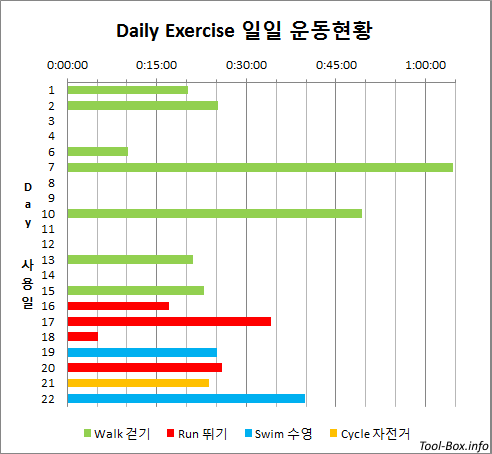 3-week log of daily exercise done with Apple Watch
Days 12 to 14 were more or less about getting back to the office life and becoming busy. Interactions with the watch were largely limited to checking notifications. This resulted in less battery drain than normal. Since day 15, though, I got into regular exercises and checking out Apple Watch's features in depth. So the battery drained a bit faster, but nevertheless a full-day usability was maintained.
Apple designed Apple Watch's UX so that you don't need or want to interact too long - you get useful burst of information, and you get back to your daily life. So if you agree to this and aren't compulsively checking stuff on your wrist, there's no doubt that the device will operate comfortably and be a very nice companion throughout the day, from bed to bed. But there's also no doubt that a daily charging is part of the usage pattern you have to agree to for the full functionality. If this factor trumps all the possible usefulness that the watch provides, then this isn't going to be for you.
I have some more miscellaneous observations to note next, but I think you now have some good idea on the merits and the downfalls of owning an Apple Watch with the posts I've written so far.