Months into
using the SKT Smart Home
as the home IoT system, several shortfalls such as the lack of interaction beyond the main app and no actual user-side ownership of data left me feeling unfulfilled. Meanwhile, Apple's own home IoT efforts, HomeKit, had been maturing and being quite an Apple enthusiast, I thought this may be a good time to give it a try.
First appeared on iOS 8 in 2014, HomeKit finally got its own system app "Home" and a place in the Control Center with iOS 10, along with notification from accessories (iOS 10.2) and geofencing support. With the upcoming iOS 11, it's set to become even more powerful, supporting more accessory types, per-user geofencing, better timing options (offsets and delays), shorter Bluetooth LE latency, and hobbyist development of accessories.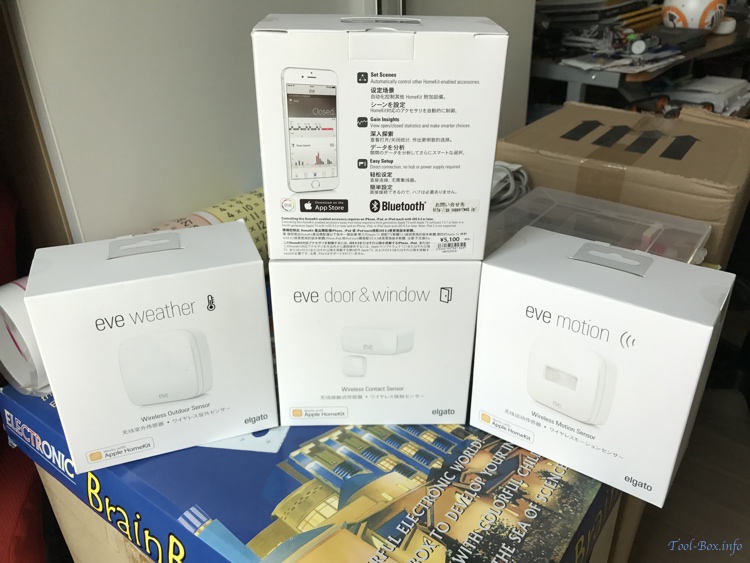 Stepping into the Apple HomeKit world with Elgato Eve sensors - Weather, Door & Window, and Motion
For my first HomeKit accessories, I picked up several types of Elgato Eve sensors during
my Fukuoka visits in April
. Eve Weather tracks the outside temperature, humidity, and air pressure. Eve Motion senses human movement up to 9 meters in the 120 degrees' field of view. Eve Door & Window detects the opening and closing of openable items. They seemed to be good starting points for future expansion because they provide sensor data that can trigger actions.
Now, the reason why I bought them in Japan is because most of the HomeKit-enabled accessories are not sold in Korea at the moment. They are most prominently available in the U.S., but this means that anything that runs off AC power like power plugs and light switches are often 120V-only, incompatible with the 220V outlets. Battery-powered ones can be found with relative ease in many Eurasian countries. For now, I'm sourcing various accessories from the U.S., Germany, and Japan.
FYI, the sensor series for Elgato Eve are most widely available around the world and you should compare the prices when buying them from overseas. Price in Japan isn't particularly favourable, so you should pick them up from physical stores only if you're already visiting the country for other reasons.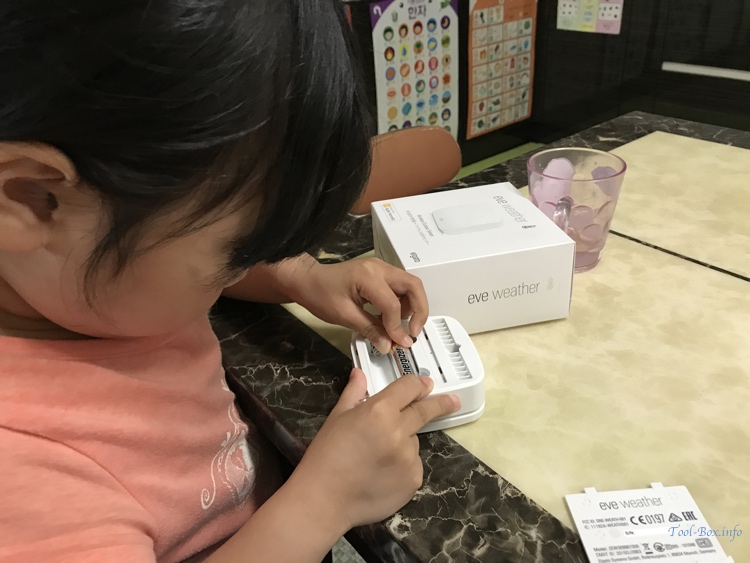 Hayun inserts the AA batteries into Eve Weather
Eve sensors are battery operated, so they can be installed freely around the house. What's more, batteries in these sensors last at least a year according to Elgato, so they need little maintenance. More than two months into their use, battery indicators have barely budged. Should the batteries eventually run out, Eve Weather and Eve Motion use standard AA batteries, so they are cheap and easy to replace.
Continue reading "Moving to Apple HomeKit with Elgato Eve"