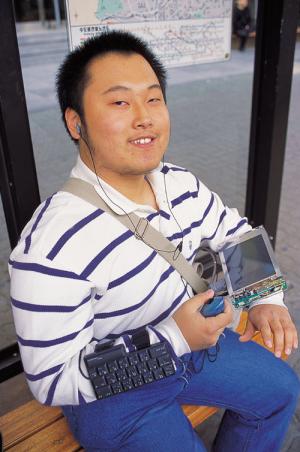 Because '
I Love PC
' wanted to have my wearable PC introduced in their next issue (December 2001), I quickly attached leather straps on the monitor and bought a small totebag to put my system in. The above picture is the actual photo that went into print in the said issue of the magazine. This marks my second entry in their 'Computer Freaks' section; first one was, of course, the
Portable Athlon
, which was shown in the May 2001 issue.
While the quick-fix proved to be stable enough for the duration of the photo shoot, I noticed that some improvements were in order. Most notably, the display was bulky as expected and the leather straps proved to be uncomfortable. I couldn't do anything about the bulky part, as it was mainly attributed to the ADC attached to the back, but I decided to replace the strap with a Velcro type. It proved to be a lot better and reduced weight, slightly alleviating the bulkiness.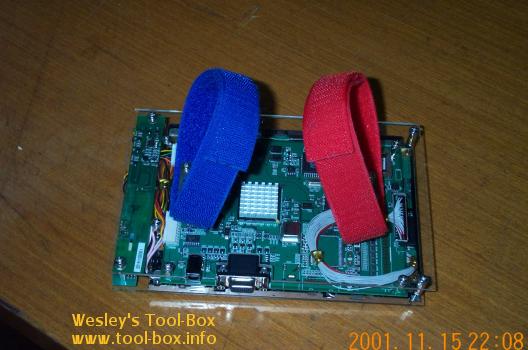 Good news came from Maxan a day after this. They notified me that the BIOS fixing the compatibility issue with my LCD panel had been finished. This meant that I could dump the ADC! I rushed to their office (which had been moved to downtown Seoul, making it easily accessible from subway) and replaced the BIOS chip. They did not have BIOS flashing procedures like some of you are used to, apparently.
I removed the ADC from the monitor, and attached the conversion interface instead, so the monitor and the motherboard would have a direct digital data link like a laptop. I really liked this, because not only did it reduce the thickness (and thus the bulky look) back to the original design, it reduced weight, increasing comfort level. The thickness of the panel itself is now about 1cm thick.