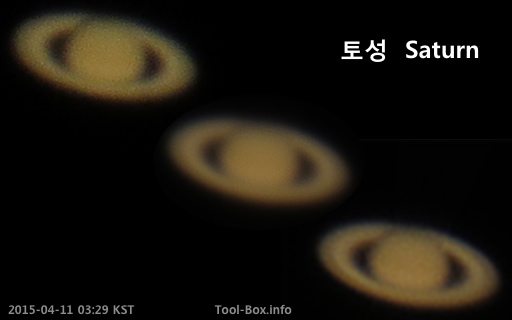 Biggest photos of Saturn from SX50 HS yet
[Raw - Stacked - Wavelet Processed]
Hoping to get a bigger look at the planets, I bought a 5mm LE series eyepiece from e.Frantis. It would supposedly get twice the magnification of the 25mm eyepiece & 2.5x barlow lens combination. After waiting for more than a week for the weather to clear up, I observed the planet Saturn through the brand new eyepiece. It certainly showed the planet nicely, in spite of being a bit dark due to the high magnification.
Not to miss the opportunity to capture this on camera, I got my SX50 HS camera out and placed it over the eyepiece by hand. After several hundred shots, I was able to recover a handful of good photos. Putting them together, I was able to finally have the Cassini Division on the rings of Saturn properly show up. This fulfilled one of the main expectations I had of the Celestron NexStar 6SE telescope.
As for the actual magnification of the eyepiece, my calculations showed that the photos had a 0.22 arc second / pixel resolution, which is about 6.65 times better than the 50x zoom provided by SX50 HS's integrated lens. This is equivalent to having a 8000mm zoom lens. Also, this is 2.4 times the magnification given by the aforementioned eyepiece-barlow lens combo. This is somewhat higher than expected.
Telescope: Celestron NexStar 6SE + 5mm eyepiece
Device: Canon SX50 HS (afocal)
Settings: 24mm - ISO 200 - 1/5s - f/3.4
Filters: None
Time: 2015-04-27 03:16-03:29 KST
Location: Naju, Korea
23 photos stacked with RegiStax 6.1.0.8