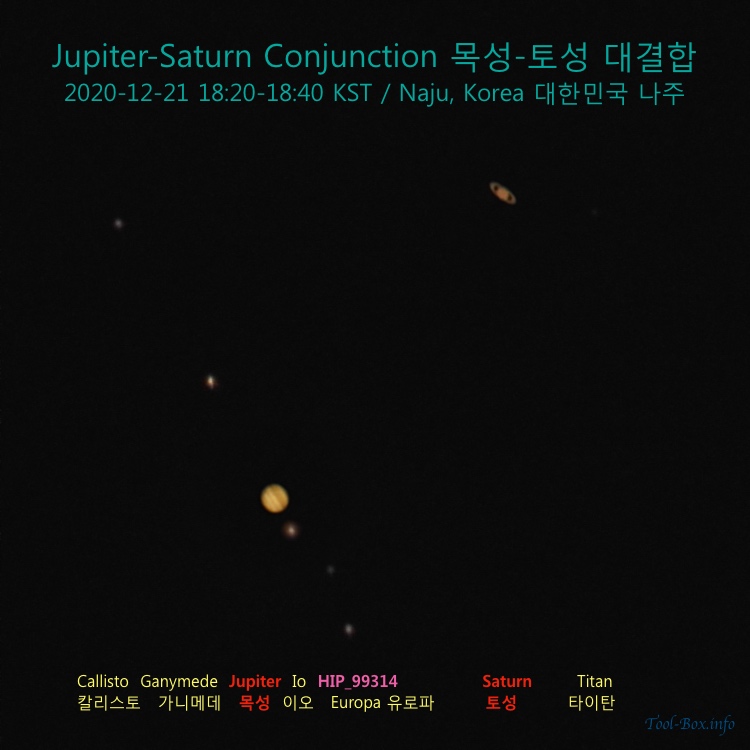 Jupiter and Saturn appeared closest to each other in nearly 400 years on the Winter Solstice of 2020. For this Great Conjunction, the two planets were only about 6 arc seconds apart, which meant that I was easily able to take a photo of both in a single frame as you can see here. Some had expected that they might appear as a single dot, but it turned out that Saturn was discernible as a fainter "bump" on the top right side of Jupiter to the naked eyes.
To show the planets and the satellites together, I used varied exposures and then combined the results into a single photo. Titan was the dimmest that I could photograph, and it appears very faintly to the right of Saturn. Interestingly, a star named HIP 99314 was also caught in action between Io and Europa, which means that this conjunction was actually a triple affair.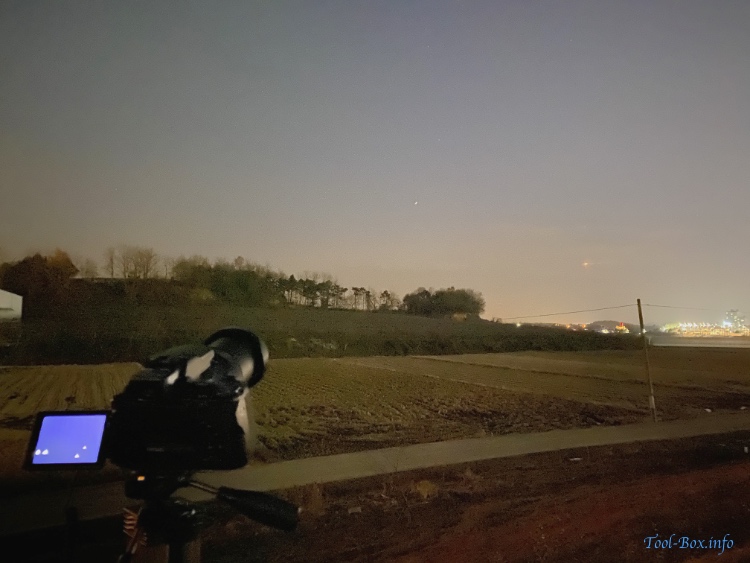 By the way, I was worried that I wouldn't be able to see the phenomenon in person because it was pretty cloudy throughout the day. Luckily, most of them went away as the Sun set and I was able to take the photos for about an hour until the low-hanging clouds started to block the view. The next closest conjunction happens 60 years later and I'm not sure if I'd be around to see that, so I was glad that the weather decided to cooperate in the last minute.
Device: Nikon P1000
Settings: 3000mm - f/8
- Jupiter: 24 photos, ISO 200, 1/30s
- Saturn: 13 photos, ISO 400, 1/30s
- Satellites: 17 photos, ISO 800, 1/5s
Filters: None
Time: 2020-12-21 18:20-18:40 KST
Location: Naju, Korea
Photos processed with PIPP 2.5.9, RegiStax 6.1.0.8 and Pixelmator Pro 2.0