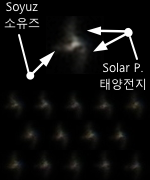 International Space Station and Soyuz craft carrying Olympic torch
I had a good opportunity to test this setup earlier today, as the space station made its pass from the western sky in the early morning. I aligned the iPhone's screen with SX50 HS's by targeting a faraway object, both at maximum zoom. And then I waited for the station to make an appearance. As soon as I was able to spot it on the phone's screen, I started shooting with the camera.
In the end, I was able to shoot 41 consecutive photos of the station in the span of 18 seconds. This proved that the setup worked beautifully - the only limitation was the tripod not being able to position the camera higher than 70 degrees. Stacked image shows the solar panels of the station, as well as the docked Soyuz spacecraft that carried up the Olympic torch for Sochi 2014 games last week.
Settings: 1200mm - ISO 80 - 1/640s
Time: 2013-11-11 06:50:32 - 06:50:50 KST
Location: Suwon, Korea
Photo: Top photo made by stacking bottom 14 photos using RegiStax 6.1.0.8
Animation: Continuous loop of the 41 photos shot