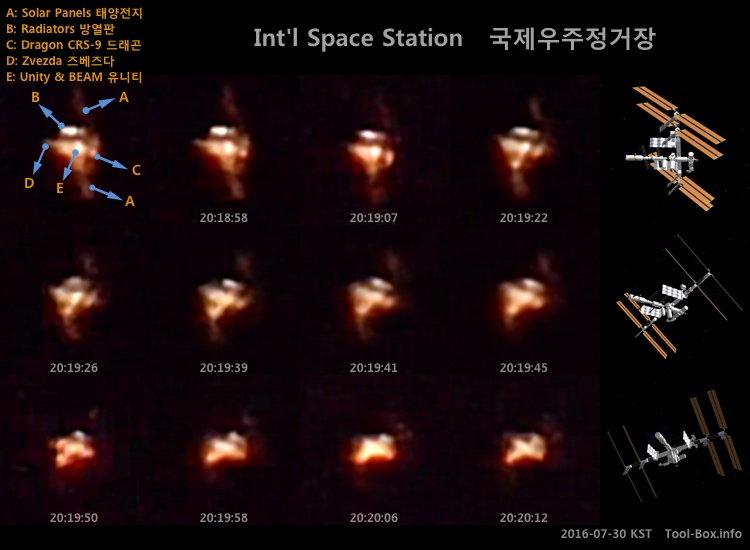 International Space Station observed on July 30, 2016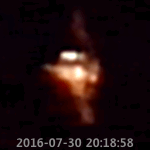 ISS pass, animated
When you try to keep up with fast-moving objects with the manual control of the telescope motors, the lack of fine-grained steps become a big limitation. Speed 6 moves at about 0.267 degrees/second and 7 at 1 degree/second, while the International Space Station moves at a speed that is somewhere in between, depending on the distance. To alleviate this slightly, practice and preparation were needed. I fixed the finder scope misalignment and added a camera mount to the telescope. iPhone 6 Plus was placed on the mount to act as a secondary finder scope, much like
what I did on my Canon SX50 HS camera
three years ago. These made it much easier to have the telescope point at the International Space Station.
As a result, I managed to photograph about 220 frames of the station in two minutes this time, enough to show the movement like
the one I did with the old camera two years ago
when I came to Naju. The space station was farther away and a lot dimmer (504km vs 685km, -3.5 mag vs -1.6 mag at culmination) than
the previous attempt
with the telescope, meaning less details. Even so, I think I was able to identify the SpaceX Dragon spacecraft that went up for the CRS-9 mission, which was attached to the bottom of the Harmony module just ten days before.
Telescope: Celestron NexStar 6SE + X-Cel LX 9mm eyepiece
Device: iPhone 6S Plus (afocal)
Settings: 29mm - ISO 720 - 1/1400s - f/2.2
Filters: None
Date: 2016-07-30 KST
Location: Naju, Korea
Stacked with PIPP 2.5.6 and RegiStax 6.1.0.8
Photos: 10 / 9 / 12 / 6 / 9 / 12 / 28 / 4 / 10 / 14 / 8
Time: 20:18:58 / 20:19:07 / 20:19:12 / 20:19:26 / 20:19:39 / 20:19:41 / 20:19:45 / 20:19:50 / 20:19:58 / 20:20:06 / 20:20:12