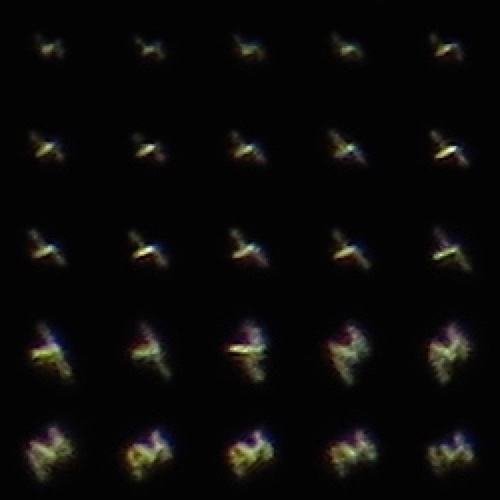 Looks as if ISS is turning around as it makes the pass
The roof of the new KPX headquarters at Bitgaram City in Naju is dubbed "Sky Park", so I thought it might be an interesting spot to photograph celestial objects. It is surrounded by small windows, obscuring low altitudes, but a good place otherwise. On the evening of the day after Christmas, a flyover of the International Space Station was expected on a clear sky, so I brought my Canon SX50 HS camera to the roof.

ISS approach animated
It was very windy and cold, and my bare hands holding the shutter button began to feel numb almost immediately. Luckily, the ISS began to appear on the western sky, so I pointed the camera towards it, helped by the iPhone 6 Plus mounted on the hot-shoe. In the span of about 3 minutes, I was able to take roughly 400 photos of the space station, of which 40% was in good state.
The 25 best shots can be seen here, starting at 18:37:00 and ending at 18:39:44, at about 7-second intervals. During most of the visible flyover time, ISS was turned on its "back", and then "rotated around" around 18:39:00, only to disappear about a minute after. The turnaround point was when it was closest to the observer, about 560km away. The animated version with each frame 5 seconds apart should illustrate this quite nicely.
What I like about this observation is that the ISS was captured on camera more clearly than most of the attempts made in Suwon,
except for the direct overhead pass last year
.
The morning flyover photographed last March
shows the opposite turnaround, but was much blurrier. The difference is quite noticeable. Looks like I'll be able to enjoy doing astrophotography even more at this new location.
Device: Canon SX50 HS
Settings: 1200mm (2x enlarged) - ISO 80 - 1/320s - f/6.5
Filters: None
Time: 2014-12-26 18:37 - 18:40 KST
Location: Naju, Korea