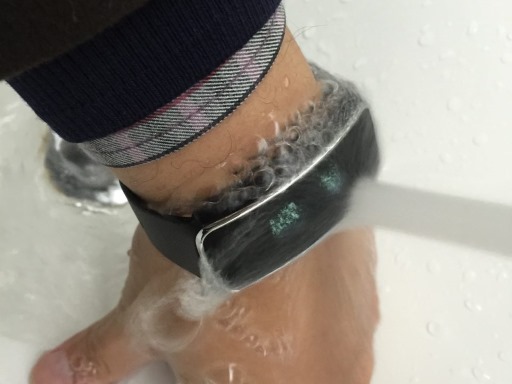 Testing water resistance of Oband T2 smartwatch
With the Apple Watch going on sale next month, interest in smart watches should spark in 2015. Being wearable, water resistance of these sort of devices is one of the aspects that's getting attention. Usually, the IP (International Protection) rating, an IEC (International Electrotechnical Commission) 60529 standard, is used because they're electronic devices. This rating certifies resistance to solids and liquids.
Lots of good quality smart watches and water resistant smartphones are rated as IP67, including
Samsung's Gear 2
and Gear Fit.
Apple Watch has an IPX7 rating
, which has the same water resistance rating, but without dust resistance certification. The last digit, 7, indicates that the device can withstand submerging at a depth of 1 meter for at least 30 minutes.
Information on IEC 60529 Standard:
[1]
,
[2]
Meanwhile, traditional watches often sport "water resistant to X meters" or similar indication instead. The problem is that the IP rating seem very underwhelming in comparison on the surface. Casual water resistant watches often have a 30-meter mark, which seems to be much better than the 1-meter rating for IPX7.
But if you delve in deeper, you'll find that the 30-meter mark is only good for splashes and short immersion in water. The watch cannot be expected to withstand dives to a few meters, let alone 30. This is because the mark merely indicates momentary resistance to static pressure of 3 ATM, which is what water exerts at a depth of 30 meters.
[Information on water resistance ratings for watches]
10-meter (1 ATM) water resistance is only good for accidental splashes, which seems analogous to an IPX4 rating at best. A 30-meter (3 ATM) mark is good for general splashes and short immersion. An old standard quoted in a FAQ of a watch company says that the 3 ATM watches "
must be able to survive 30 minutes under water at a depth of 1m (3 feet) followed by 90 seconds under a pressure corresponding to 30 meters.
"
So a 30-meter water resistance is more or less like an IPX7 rating.
If you're to go swimming, a minimum of 100-meter mark or a IPX6+IPX8 rating seem necessary.
So the current crop of smart watches have a useful water resistance not unlike many casual watches, and shouldn't been seen as too inadequate. Still, as the competition heats up, we might eventually have proper swim-proof versions. I see so much potential there.