Readying indoor running, with help from Wii Fit Plus
I had a Wii game console for about six years, and I used to use Wii Fit a lot to stay in shape. Then I bought the Wii Fit Plus upgrade a few months ago. One of the exercises I could do on it was indoor running - I could have the controller in my pocket and run in one spot, and it would record the distance and calories burned.
Since Apple Watch's default Workout app also had an indoor running mode, I thought it would be a great idea to get both technologies to record a run and see the differences. Also, I was severely lacking in the yellow exercise ring's progress that day, so I needed the run anyway. I set both to a 30-minute session and started out simultaneously.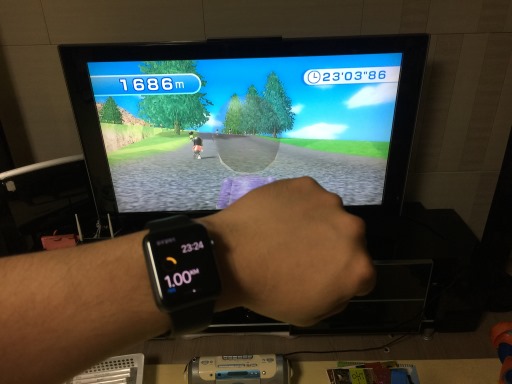 On distance estimate, Wii Fit Plus outpaces Apple Watch
A short while later, I discovered that the distance measurement was getting significantly different. By the time Apple Watch recorded 1km around 7-minute mark, Wii Fit Plus was already at about 1.7km. Working out the math, this came to about 14.5km/h, which seemed too fast for me.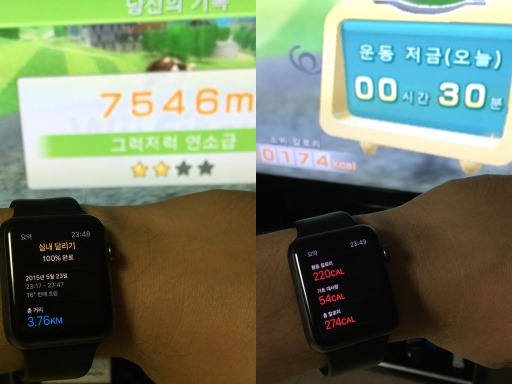 30-min run: Wii Fit Plus says 174kcal, 7.55km and Apple Watch says 220kcal, 3.76km
At the end of the 30-minute running session, Wii Fit Plus seemed to think I ran at about 15.1km/h, while Apple Watch estimated half of that at 7.5km/h. Knowing that my leisurely running speed is somewhere between 8 to 10km/h, I think the Apple Watch got it almost right.
Meanwhile, despite supposedly running at half the speed, Apple Watch thought I burned 26% more calories than Wii Fit Plus. The watch estimates this in conjunction with the heart rate sensor, so I guess this is more believable as well.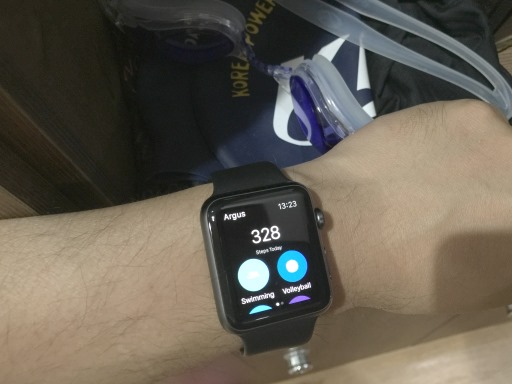 Getting ready to swim, with Argus app on the Apple Watch
Now I wanted to try swimming with the Apple Watch on my wrist.
From my previous post
, I knew that the watch's IPX7 rating would not officially be good enough for swimming. But I've read reports that a short session might not pose much problem. So off I went to a swimming pool.
One of the well known 3rd party fitness apps with Apple Watch support, Argus, had the option of recording a swimming session. So I decided to try this out.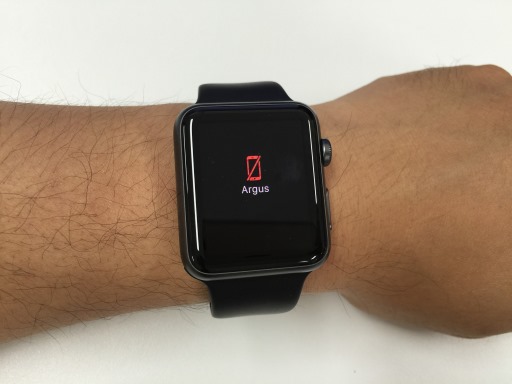 Argus doesn't work when iPhone isn't around
But one problem immediately surfaced - it couldn't operate with the iPhone out of the Bluetooth range. This was because the current Apple Watch SDK does not allow an independent 3rd party app running on the device. Even a simple app like a calculator will not open without an iPhone because of this limitation. Also, the 3rd party apps cannot access the heart rate sensor or the digital crown, either. It's a rather sad state of affairs at the moment.
Recent news does point out that Apple intends to fix all these shortcomings by providing a much more robust SDK this fall, with the beta version possibly coming in the WWDC event next month. So in a few months, Argus will hopefully gain the ability to run independently on an Apple Watch, and measure heart rate during an exercise.
In the meantime, I fell back to using the default Workout app. It doesn't have swimming mode for obvious reasons, so I selected "other" mode to record my swimming session.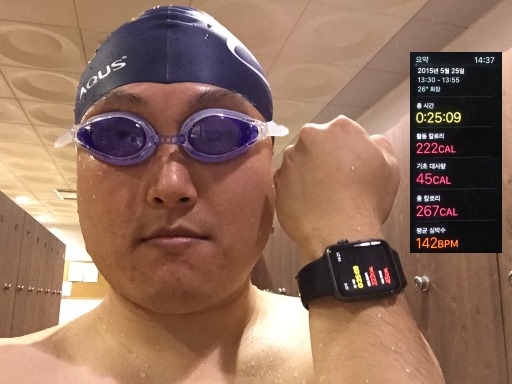 25-min swimming session recorded with the Apple Watch
I did continuous laps in the swimming pool for 25 minutes, and then did some intermittent dipping for the next 30 minutes. During all this time, the Apple Watch operated flawlessly and no leaks were visible. It also recorded my heart rate during the laps without issues. I wouldn't officially endorse people to go swimming with the watch on, but it seems to be completely doable if you're not going deep and the device didn't get any physical abuse beforehand.
Overall, it seems that the the Apple Watch is a great companion for exercising. I'll be checking out other interesting uses next.