Entries tagged as swimming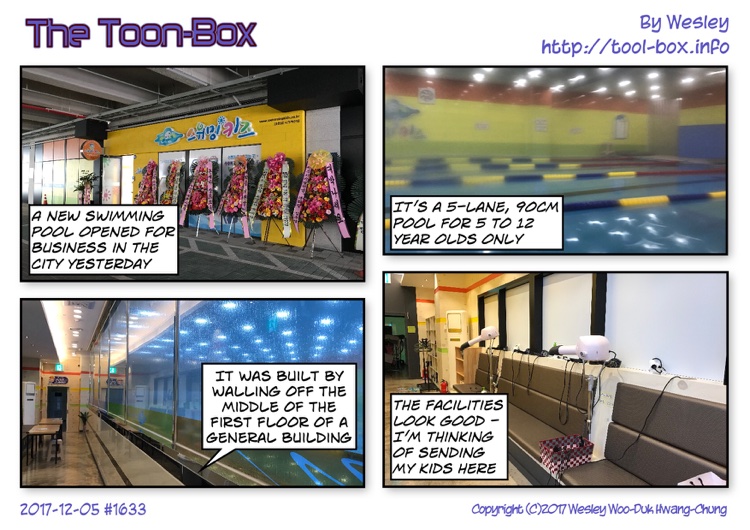 Apple Watch's Korean launch is just a few days away (June 26) and I'd like to offer you a nicely consolidated list of all my reviews for your convenience. I hope this will help you get some idea on whether you should get one and how you should use it if you do.
Preview
Summary
1. One of the first Apple Watch in Korea
Sent three days after the official release in the US and arriving about a week later, one of the first Apple Watch to land in Korea gets prompt unboxing and gets ready for a full review.
2. Getting the Apple Watch up & running
I have the bands installed in place and the battery wirelessly charged up, so that I can pair the Apple Watch with my iPhone 6 Plus and make it work.
3. Basic screens & buttons of the Apple Watch
Apple Watch's many screens are explored, including the watch face, lock screen, home, and favourites. I also try out the digital crown and the side button.
4. Notifications & contacts on Apple Watch
As one of the primary functions, I took a look at how the notifications appear and interact. Then I tried contacting someone with Apple Watch, either through text or voice.
5. Apple Watch's daily life tracking
Fitness tracking with Apple Watch is explored, including the heartbeat measurement with an integrated sensor and the daily activity logging through a three-ring system.
6. Running, swimming with Apple Watch
I had both Nintendo Wii Fit Plus and Apple Watch record indoor running sessions to see how they compare. Then I went swimming with my Apple Watch to see if it'd actually work.
7. Apple Watch as an extension, stand-in
I tried using Apple Watch as a replacement for membership cards. Then I remote controlled my Apple TV and iPhone 6 Plus camera with it, as well.
8. Battery life of the Apple Watch
I recorded my Apple Watch's battery life for three weeks, through international travels and all sorts of exercises, to see if Apple's claims stood up.
9. More Apple Watch observations
I took a look at how fast the Apple Watch charges up and how step counting data are consolidated. Also, I have some more tips and observations on its daily use.
10. 45 days with Apple Watch & watchOS 2
Seven weeks later, the hardware of Apple Watch Sport is still standing up quite well. But early watchOS 2 and iOS 9 betas are incredibly rough to use.
Defined tags for this entry:
Apple Watch
,
barcode
,
battery
,
camera
,
Nintendo Wii
,
Oband T2
,
remote control
,
running
,
screen
,
swimming
,
watch
,
watchOS 2
,
water resistance
Readying indoor running, with help from Wii Fit Plus
I had a Wii game console for about six years, and I used to use Wii Fit a lot to stay in shape. Then I bought the Wii Fit Plus upgrade a few months ago. One of the exercises I could do on it was indoor running - I could have the controller in my pocket and run in one spot, and it would record the distance and calories burned.
Since Apple Watch's default Workout app also had an indoor running mode, I thought it would be a great idea to get both technologies to record a run and see the differences. Also, I was severely lacking in the yellow exercise ring's progress that day, so I needed the run anyway. I set both to a 30-minute session and started out simultaneously.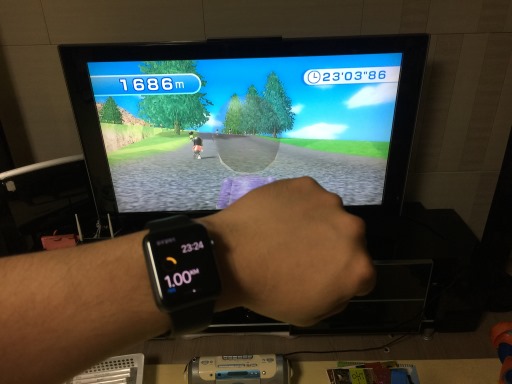 On distance estimate, Wii Fit Plus outpaces Apple Watch
A short while later, I discovered that the distance measurement was getting significantly different. By the time Apple Watch recorded 1km around 7-minute mark, Wii Fit Plus was already at about 1.7km. Working out the math, this came to about 14.5km/h, which seemed too fast for me.
Continue reading "Running, swimming with Apple Watch"