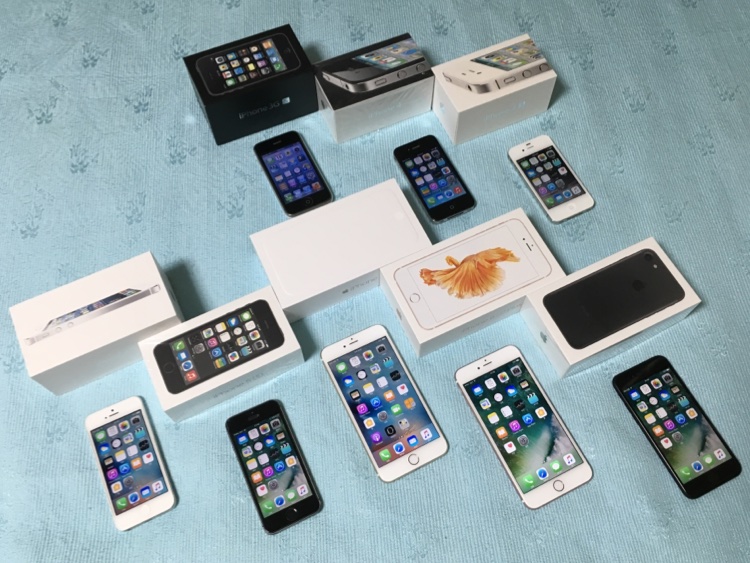 Family portrait of the 8 generations of iPhones
Top row runs the older iOS: iPhone 3GS, 4, and 4S
Bottom row runs the latest iOS: iPhone 5, 5S, 6 Plus, 6S Plus, and 7
My iPhone collection is constantly growing. When you lay them down like this with their boxes, it provides me with a nice view of how the technology is evolving. As with all things, though, old devices simply ceases to be supported by the manufacturer. The three iPhones at the top no longer receive any major iOS version updates and are stuck in their time. The new member of this is the iPhone 4S, topping out at iOS 9.3.5. I expect iPhone 5 to join this group next year because, along with iPhone 5C, it is the last in the line of 32-bit iPhones and iOS 10 visually warns about an app that's not 64-bit.
iOS updates or not, all my devices are kept in good working condition. So I brought them out for another annual round of tests. For this year's tests, devices from iPhone 5 to 7 had iOS 10.0.1. 4S, 4, and 3GS had 9.3.5, 7.1.2, and 6.1.6, respectively. Last year, devices from iPhone 4S to 6S Plus had 9.1. Let's take a look at the boot times.
Unless it's an old device that's feeling the weight of a new OS, newer devices tend to have a quicker boot time. Strangely though, iPhone 7 does not boot up as fast as its predecessor, and this was repeatedly observed. Perhaps this is due to the tested device having a large, 256GB storage and the system taking its time to test its integrity.
Here's how the iPhones stacked up in measured time for this year and last year. For the devices that received a newer OS, they seem to have somewhat longer boot time compared to last year. Curiously, even in last year the latest device at that time did not have the fastest booting time. Maybe the boot time takes a while to optimize.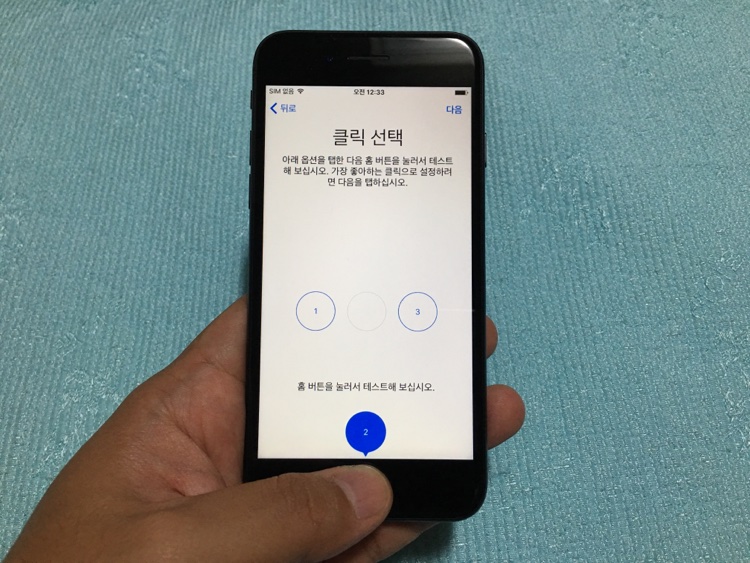 Choosing the strength of the taptic feedback for the iPhone 7 home button click
Now let's take a look at the home button. This round button is an iconic part of an iPhone's design and function, providing a reliable, physical way to control the phone. But its mechanical nature was susceptible to breaking down after prolonged use, and indeed I've seen home buttons on old iPhones not properly clicking. To mitigate this issue and also improve water resistance, Apple decided to fix the home button in its place starting with iPhone 7 series. It no longer moves down to click. Instead, the Taptic Engine simulates the clicking feel by creating a vibration pattern on the button's surface.
In my experience, the feel does not recreate the clicking feel of home button, but rather, the clicking feel of an Apple touchpad found in Macbooks. Therefore, it feels like the entire bottom of the iPhone clicks down, not just the home button. As a long-time iPhone user, the sensation took a couple of days to warm up to. I've opted to make the feel the strongest (option 3 in the selection screen seen above) so that the click feels substantial and weighted. Eventually, I was using the home button just like before without thinking much about it, which was a good thing.
One minor issue that one should be aware of is that the the push sensing is capacitive, just like the touch screen. You won't be able to click the home button with your nails or other non-skin-like objects. If you don't use Touch ID unlocking and have a habit of pushing the home button with something other than fingers, it might be a time to change your habit.
But if you use Touch ID like I do, then it's a moot print, of course. Speaking of which, I decided to see how the Touch ID fingerprint sensor performed. This feature is now in its fourth generation, and last year's iteration was already deemed quite fast. How did the iPhone 7 fare?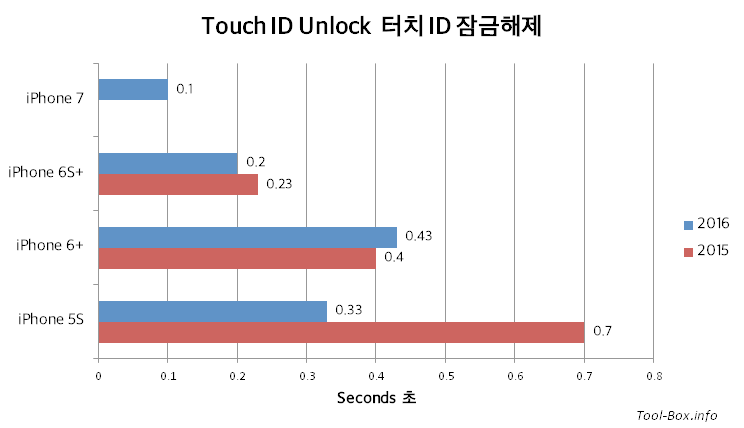 Even faster, apparently. In the case of iPhone 7 it unlocks the screen a mere 0.1 second after the screen starts to turn on, making it practically an instant and about twice as fast as its predecessor. With the iOS 10 upgrade, the 6 Plus and 6S Plus have remained more or less the same, while iPhone 5S apparently got a bit of speed boost and performed similarly to iPhone 6 Plus for me.
So far, iPhone 7's unlocking performance is impressive, and the booting speed, less so. This is just a start, so stay tuned.
Defined tags for this entry:
box
,
iPhone 3GS
,
iPhone 4
,
iPhone 4S
,
iPhone 5
,
iPhone 5S
,
iPhone 6 Plus
,
iPhone 6+
,
iPhone 6S Plus
,
iPhone 7
,
Touch ID