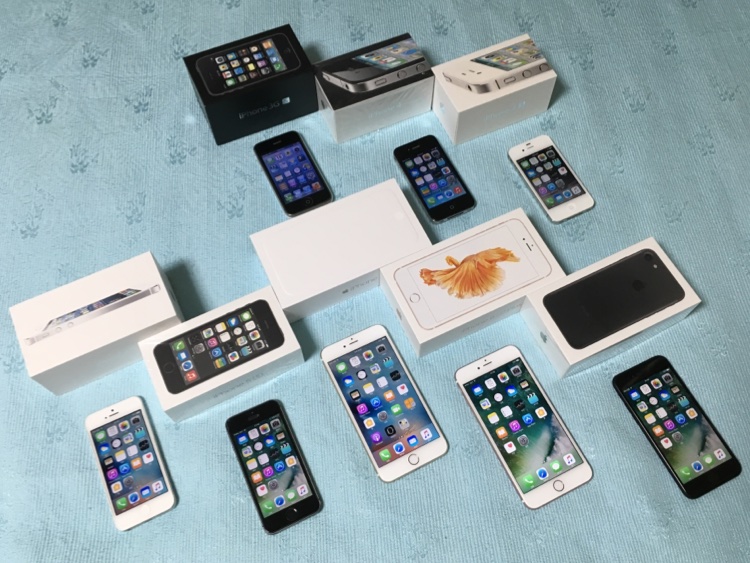 Family portrait of the 8 generations of iPhones
Top row runs the older iOS: iPhone 3GS, 4, and 4S
Bottom row runs the latest iOS: iPhone 5, 5S, 6 Plus, 6S Plus, and 7
My iPhone collection is constantly growing. When you lay them down like this with their boxes, it provides me with a nice view of how the technology is evolving. As with all things, though, old devices simply ceases to be supported by the manufacturer. The three iPhones at the top no longer receive any major iOS version updates and are stuck in their time. The new member of this is the iPhone 4S, topping out at iOS 9.3.5. I expect iPhone 5 to join this group next year because, along with iPhone 5C, it is the last in the line of 32-bit iPhones and iOS 10 visually warns about an app that's not 64-bit.
iOS updates or not, all my devices are kept in good working condition. So I brought them out for another annual round of tests. For this year's tests, devices from iPhone 5 to 7 had iOS 10.0.1. 4S, 4, and 3GS had 9.3.5, 7.1.2, and 6.1.6, respectively. Last year, devices from iPhone 4S to 6S Plus had 9.1. Let's take a look at the boot times.
Unless it's an old device that's feeling the weight of a new OS, newer devices tend to have a quicker boot time. Strangely though, iPhone 7 does not boot up as fast as its predecessor, and this was repeatedly observed. Perhaps this is due to the tested device having a large, 256GB storage and the system taking its time to test its integrity.
Continue reading "iPhone 7's boot time & home button"