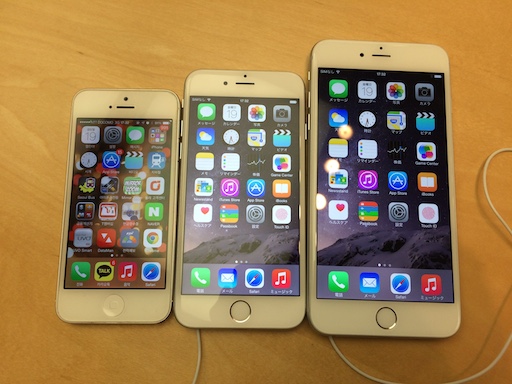 iPhone 5 - iPhone 6 - iPhone 6 Plus
The biggest change in the iPhone 6 series is undoubtedly the physical size, and it is of interest to most of the people who are considering a purchase. I had the chance to compare an iPhone 5 with both an iPhone 6 and 6 Plus at an Apple Store and took this picture to give those of you who are upgrading within 2 years some ideas of scale.
Although the 4.7" iPhone 6 is certainly bigger than the 4.0" iPhone 5, it is not considerably so. When I held both in my hands, the 6 felt like a 5 with a case that's a bit thick around the sides. Because the 6 is also thinner (0.7mm) while adding only a slight bit of weight (17g), it doesn't feel too big or heavy, either. If you want to largely retain the portability that iPhone series provided, iPhone 6 carries on the theme somewhat okay.
As for the 5.5" iPhone 6 Plus, it feels like an another class of device, rather than being an iPhone. Observe the following picture.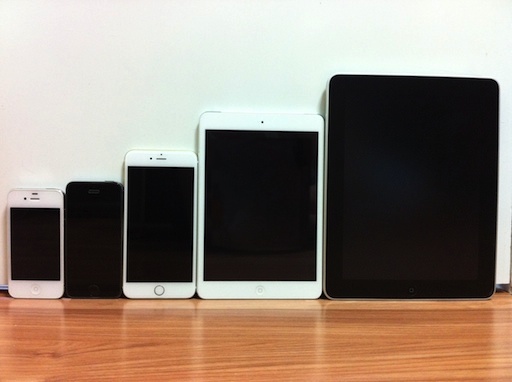 iPhone 4S - iPhone 5S - iPhone 6 Plus - iPad mini - iPad 1
iPhone 4S represents the general size of all the old iPhones going back to the 1st generation. iPhone 5S represents all the 5 series (5, 5C, 5S). These two classes of iPhones are not really all that different in dimensions. However, the iPhone 6 Plus is substantially large enough that it's something that's occupying a class between the old iPhones and the iPad mini. iPhone 6 Plus is to iPad mini what iPad mini is to iPad.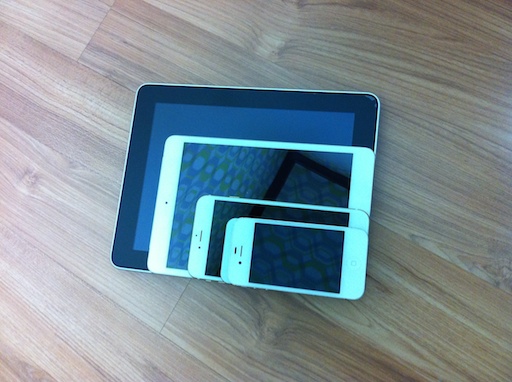 iPhones and iPads stacked together - top view
Stacking these devices on top of each other tells a similar story. If you look at the height (it would be "width" for this picture), the "jump" between each class of devices is generally consistent.
But because iPhone 6 Plus is a phone, it just got narrower than what it would have become had it been made as an "iPad nano". This is due to aspect ratio differences: tablets are 4:3, while phones since 5 are 16:9. It's definitely a hybrid device that is both sort of a phone and a tablet at the same time.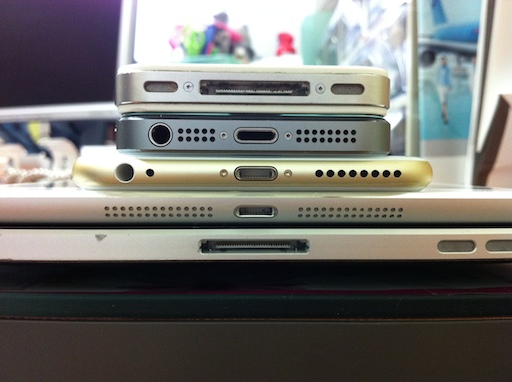 iPhones and iPads stacked together - lower area view
Since I got my iOS devices stacked together, I used this opportunity to see the evolution of the bottom edge. The oldest devices at the top (iPhone 4S) and bottom (iPad 1) sport the same 30-pin dock connector and nearly identically styled rounded square speaker holes. As the devices entered the lightning port era (iPhone 5S and iPad mini), the freed space that used to be occupied by the dock connector is used for having two rows of several tiny speaker holes.
The iPhone 6 Plus in the middle takes the design cues straight from the 5th generation iPod Touch that came out two years ago, with a single row of larger speaker holes. It also ditches the symmetric look for the microphone hole on the other side of the lightning port. A lot of people had been confused into thinking that iPhones had stereo speakers on the bottom and complained that only one of the speakers would work. I suppose this complaint will die down a bit.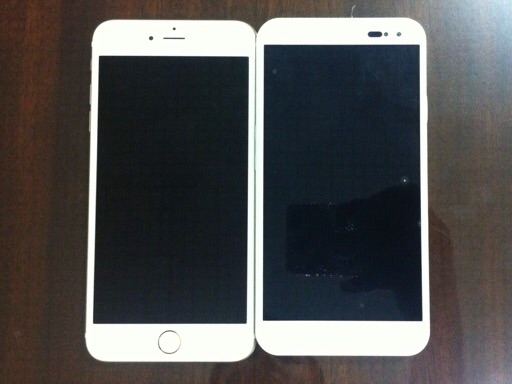 iPhone 6 Plus and Vega LTE-A - top view
Meanwhile, it is well known that smartphones running Android OS has had a variety of large phones dubbed "phablets" available for quite some time. iPhone 6 Plus sports an eerily similar width and height to a typical phablet. I already confirmed that a belt case made for Galaxy Note series fit the device.
In this picture, it is compared to a Vega LTE-A from Pantech which came out a full year earlier and sports a slightly larger 5.6" display and a back-side fingerprint scanner / touchpad combo. People may mistake a 6 Plus for a relatively common phablet in Korea at first until they realize it has an Apple logo and the iconic home button.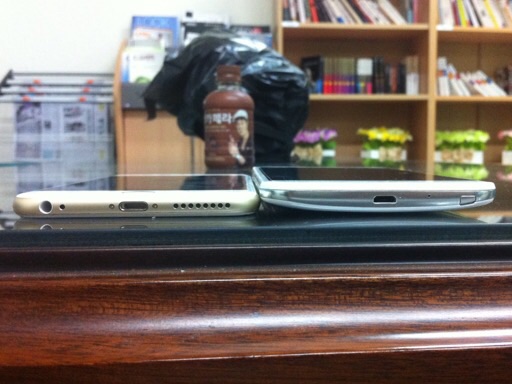 iPhone 6 Plus and Vega LTE-A - lower area view
Thickness is another matter, however. iPhone 6 Plus is quite thin at 7.1mm, while Vega LTE-A is 10.5mm. Even the latest and greatest phablet from Samsung, Galaxy Note 4, sits at 8.5mm, all excluding a possible protruded camera lens.
This thinness combined with the rounded edges make for a very Apple- and iPad-like feel, so it still holds onto its identity as it ventures into a new category. I'm glad the battery capacity wasn't sacrificed for this quest, and in the few days of use, it definitely holds a good charge. But I'll have to do a comparison test to see how good it really is.