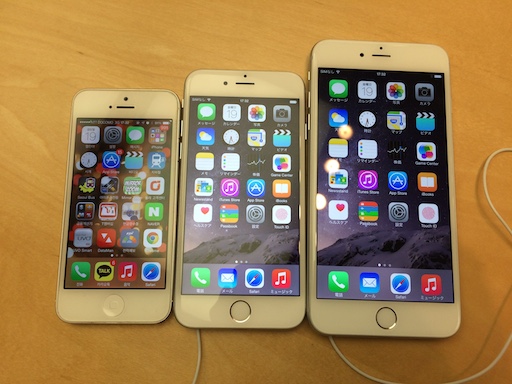 iPhone 5 - iPhone 6 - iPhone 6 Plus
The biggest change in the iPhone 6 series is undoubtedly the physical size, and it is of interest to most of the people who are considering a purchase. I had the chance to compare an iPhone 5 with both an iPhone 6 and 6 Plus at an Apple Store and took this picture to give those of you who are upgrading within 2 years some ideas of scale.
Although the 4.7" iPhone 6 is certainly bigger than the 4.0" iPhone 5, it is not considerably so. When I held both in my hands, the 6 felt like a 5 with a case that's a bit thick around the sides. Because the 6 is also thinner (0.7mm) while adding only a slight bit of weight (17g), it doesn't feel too big or heavy, either. If you want to largely retain the portability that iPhone series provided, iPhone 6 carries on the theme somewhat okay.
As for the 5.5" iPhone 6 Plus, it feels like an another class of device, rather than being an iPhone. Observe the following picture.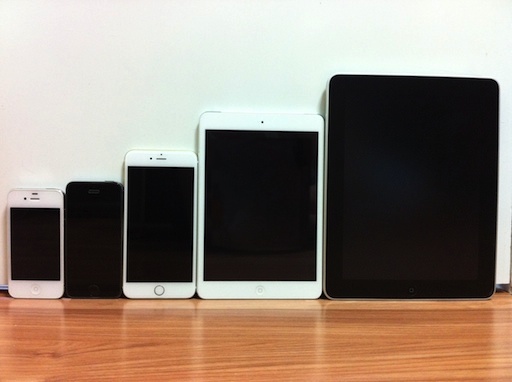 iPhone 4S - iPhone 5S - iPhone 6 Plus - iPad mini - iPad 1
iPhone 4S represents the general size of all the old iPhones going back to the 1st generation. iPhone 5S represents all the 5 series (5, 5C, 5S). These two classes of iPhones are not really all that different in dimensions. However, the iPhone 6 Plus is substantially large enough that it's something that's occupying a class between the old iPhones and the iPad mini. iPhone 6 Plus is to iPad mini what iPad mini is to iPad.
Continue reading "Sizing up the shape & size of iPhone 6 Plus"