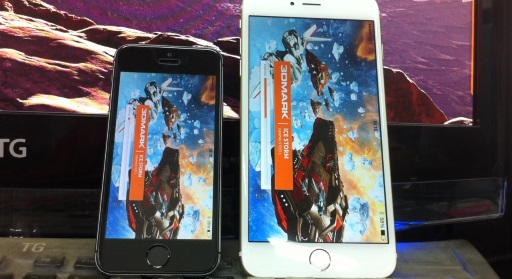 iPhone 5S and 6 Plus running 3DMark
iPhones and iPads have generally gotten big boost in speed with every new generation thanks to the enhancements in their processing units. But with iPhone 6 series, Apple decided to temper the pace. Instead of something like 2x boost, the CPU was to be up to 25% faster and GPU, 50%. This should just cover the boost in resolution, so I suppose Apple felt that the iPhone 5S was already fast enough in terms of user experience.
Indeed, with both iPhone 5S and 6 Plus running iOS 8.0 (and recently, 8.0.2), the general "feeling" of the speed was nearly the same, both mostly quick. It was just that iPhone 6 Plus happened to display the contents on a larger screen. Also, the amount of RAM staying at 1GB didn't have any noticeable impacts. On both phones, apps do run fine, although running RAM-heavy processes (notably Camera and Safari) tends to gracefully quit the other app in the background. The stopped app restarts quick enough when switched back.
To gauge some solid numbers, though, I did run through the usual batches of tests. All tests were run with iOS 8.0.2 and with same installed apps and settings.
First off, the boot time was measured. This is from when the screen turns on with the Apple logo to when the lock screen is loaded. iPhone 5S clocked in at 38.0 seconds, while iPhone 6 Plus was a bit faster at 30.6 seconds. The 5S got a bit slower than with iOS 7 installed.
Then I did a side-by-side testing to visualize the performance difference between the iPhone 5S and iPhone 6 Plus. Starting with the Touch ID unlock, I ran Octane 2.0, Geekbench 3.2.0, and 3DMark 1.3.0 in sequence. The unlocking time, from when I press the home button to when the lock screen disappears, was 0.40 seconds for iPhone 5S and 0.36 seconds for iPhone 6 Plus. While 6 Plus wins, they're both quite quick, so you won't notice the difference in daily use.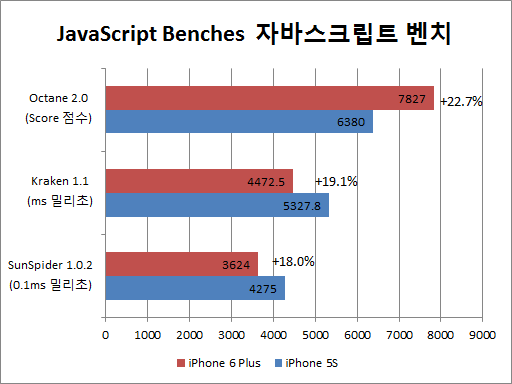 JavaScript benchmark results
To see how responsive the web browsing would be, trio of JavaScript benchmarks were run. In all cases, iPhone 6 Plus consistently bested iPhone 5S by about 20%, which is consistent with the claimed CPU speed boost. Web apps should keep running nicely in the bigger screen provided by the 6 Plus.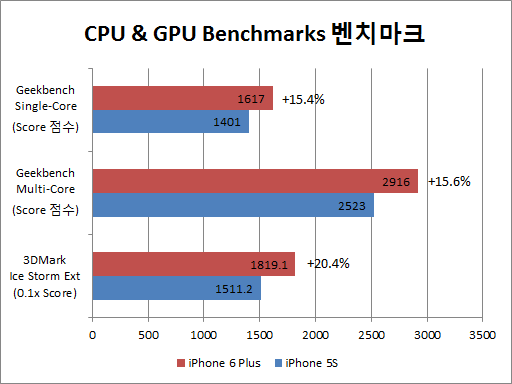 CPU & GPU benchmark results
Geekbench and 3DMark tested the CPU and GPU side of the devices, respectively. I saw a 15% boost in CPU and a 20% boost in GPU scores by going from iPhone 5S to 6 Plus. The GPU result is lower than the claimed 50%, but the internal scaling applied to fit the larger screen may have played a role. Still, as you can see in the video, the tests finish quicker, so it's definitely faster regardless.
The iPhone 6 Plus a new, fast device and it feels like one, too. Just don't expect it to be blowing past all the numbers in the benchmark scene.