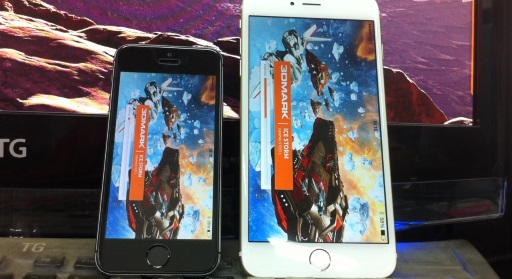 iPhone 5S and 6 Plus running 3DMark
iPhones and iPads have generally gotten big boost in speed with every new generation thanks to the enhancements in their processing units. But with iPhone 6 series, Apple decided to temper the pace. Instead of something like 2x boost, the CPU was to be up to 25% faster and GPU, 50%. This should just cover the boost in resolution, so I suppose Apple felt that the iPhone 5S was already fast enough in terms of user experience.
Indeed, with both iPhone 5S and 6 Plus running iOS 8.0 (and recently, 8.0.2), the general "feeling" of the speed was nearly the same, both mostly quick. It was just that iPhone 6 Plus happened to display the contents on a larger screen. Also, the amount of RAM staying at 1GB didn't have any noticeable impacts. On both phones, apps do run fine, although running RAM-heavy processes (notably Camera and Safari) tends to gracefully quit the other app in the background. The stopped app restarts quick enough when switched back.
To gauge some solid numbers, though, I did run through the usual batches of tests. All tests were run with iOS 8.0.2 and with same installed apps and settings.
First off, the boot time was measured. This is from when the screen turns on with the Apple logo to when the lock screen is loaded. iPhone 5S clocked in at 38.0 seconds, while iPhone 6 Plus was a bit faster at 30.6 seconds. The 5S got a bit slower than with iOS 7 installed.
Continue reading "iPhone 6 Plus - General Performance"