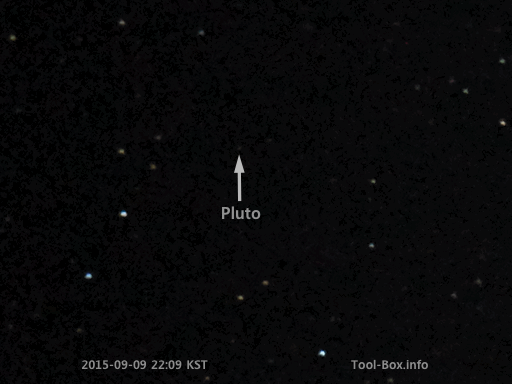 Pluto's movement from Sept. 9 to Sept. 10, 2015 (50% size)
One of the main reasons I decided to buy a new camera was that it would yield a lower-noise photo at high ISO settings, making it better for long-exposure astrophotography. To confirm this, one of the first objects I chose to take photos of was the dwarf planet Pluto.
It moved a little to the east since
the last time
, already past the ξ2(Xi 2) Sagittarii and not near a particularly bright star. The brightest stars in the animated frames above are only about magnitude 11. Nevertheless, Pluto was discernible when comparing the two frames taken a day apart under a bright monitor. Dimmest stars visible reached magnitude 15, and Pluto itself moved clearly enough to see that it's not a background star.
If you feel particularly bored, you can try picking it out of the full version of the September 10 photo.
Device: Sony A5000 (prime focus)
Settings: (1500mm) - (f/10)
Filters: None
Location: Naju, Korea
#1: ISO 800 - 20s - 2015-09-09 22:09 KST
#2: ISO 1000 - 30s - 2015-09-10 21:44 KST