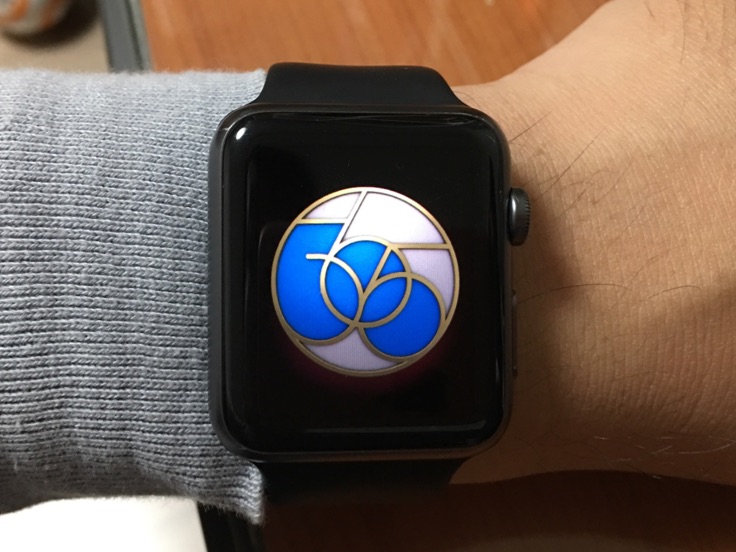 Achieving one full year of hitting daily Move goals with Apple Watch
It's now been one full year since
I started wearing Apple Watch Sport
and now is a good time to give you an update. I have been wearing it all the time except when it needs to be charged, so it has been through a lot. Daily showers and occasional swimming sessions may have caused a bit of degradation on the left edge of the screen, and an encounter with a rough surface left the glass with noticeable scratch lines. Despite all this, it's holding up well and functioning normally. I'll probably send the device in for replacement using AppleCare+ after I buy the next version, though.
In terms of battery life, it has consistently delivered at least 24 hours of use for me, except during early watchOS 2.0 betas. So I'm now accustomed to about 22 hours of use (with about 10 to 30% left as I take it off) and 2 hours of charging. The only times I wish the battery life was longer is when I do long-distance travelling, where the active time might stretch beyond 30 hours.
As for its uses, I've settled on the watch mainly being a quick notification-response device and a fitness tracker. Those two functions currently work fairly well. Meanwhile, the native app support with watchOS 2 has been hampered with the relatively slow performance. It often makes me want to reach for my iPhone instead of loading the relevant app on the watch. This needs to be addressed in the near future if Apple Watch is to be taken seriously beyond being an "accessory."
Now, the fitness tracker part of the watch was something I was looking forward to when I bought it. I have lost weight through exercise before, but lack of reminders once the goal was reached resulted in regaining some of that weight after a few months. So I decided to make good use of Apple Watch to keep me stay fit. I made sure to reach the daily Move goal every day, which had been set to 450 kcal after the first month. Missing this goal only a couple of times, I was able to earn the "365" badge you see above two days ago. Let's see the activity and weight trends in detail.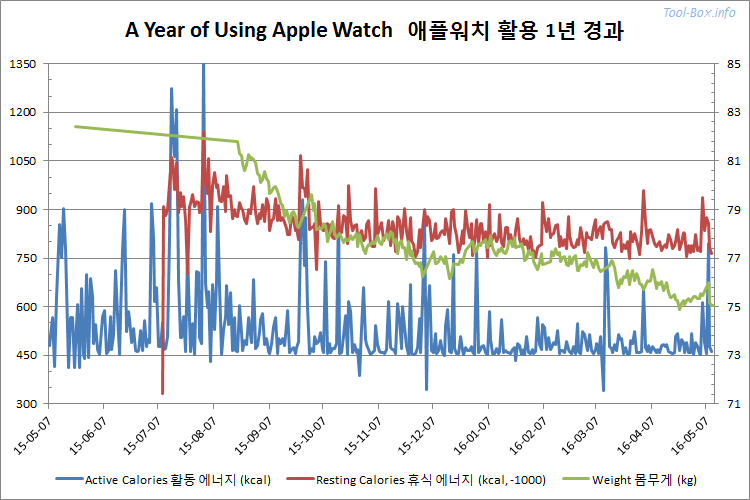 Why did I choose the 450 kcal mark? This is generally about 200 kcal more than I would normally burn through a normal day. 50 minutes of walking or 20 minutes of jogging can fill that in - these activities can easily blend into the daily routine and also conveniently make me reach the 30-minute Exercise goal in the process. Basically, I can get the bare minimum amount of exercise that Apple Watch recommends via its three-ring system with that setting. The graph evidently shows that I don't actively seek out to go beyond this goal unless something else is going on, like when I'm traveling. Some of the big spikes correlate to my overseas trips - New Zealand in May (2015), UK in July, and Japan in September, to name a few.
As a side note, the data for the resting calories starts on July 9 because this is when watchOS 2.0 beta 3 came out and made Apple Watch start recording this data on iPhone's Health database. Before that, the data resided only within the Activity app, likely because it was rudimentary and static, not to mention less accurate - it was about 40 to 50% more than expected. Since the update, the resting calories data is recorded in real time and seems to be more in line with the mainstream calculations.
Interestingly, I noticed that just reaching the Move and Exercise goals wasn't doing a particularly good job of shedding the weight in the early months. I did have a weight scale and occasionally checked my weight with it, but it hovered between 83 and 84kg without any upward or downward trend during that time. Besides, I never got around to recording the data anyway. The only data point during the period was from the annual check-up at my workplace. I decided to do something about it and got myself a so-called "smart scale" with Bluetooth connectivity in August.
Continue reading "A year with Apple Watch & Yunmai Smart Scale"