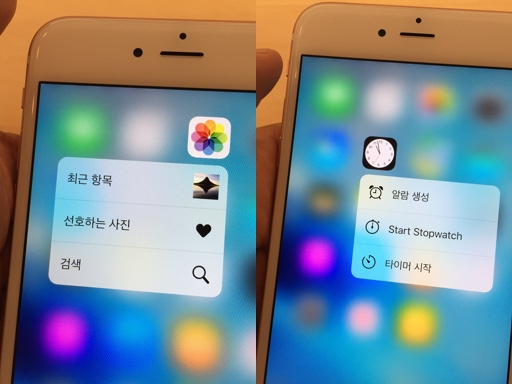 Pressing hard on the home screen icon reveals Quick Actions
One of the features that stand out on the iPhone 6S series is the 3D Touch. It's something you can immediately notice when you use the device for the first time because many of the stock apps take advantage of it. Basically, the phone's screen now knows how hard you push your finger against it, and translates it into triggering different functions.
In the home screen, a light touch on the app icon still launches it. But when you push it a bit harder, Quick Actions menu is triggered for the supported apps, letting you do get into various tasks even before the app is actually launched. It's something that I didn't know I wanted, but I would definitely miss it if it were gone. I'd be slightly frustrated to use older generation iPhones now thanks to this, sort of like how I feel about the lack of Touch ID on iPhone 5 and older. As it's the most obvious way that an app can be extended for 6S series, many of the 3rd party apps are now getting updated to enable this.
Here's a comparison video I made to show how 3D Touch lets you do more. On the left is an iPhone 6 Plus, and on the right is a 6S Plus. When I push the Photos app hard, 6S Plus shows the Quick Actions whereas 6 Plus only recognizes the long press and wants to know if I want to delete any apps.
Once into the app, pressing hard on a photo in 6S Plus lets me "peek", i.e. preview the photo, and if I push even harder, I "pop" into the photo and it's loaded on the screen. A light tapping feedback happens as I do this due to the Taptic Engine. On 6 Plus, nothing happens. This peek/pop interaction can be seen in many other stock apps, so I'm having fun trying to push the screen a lot to see there's anything more I can do.
Continue reading "3D Touch on iPhone 6S Plus"