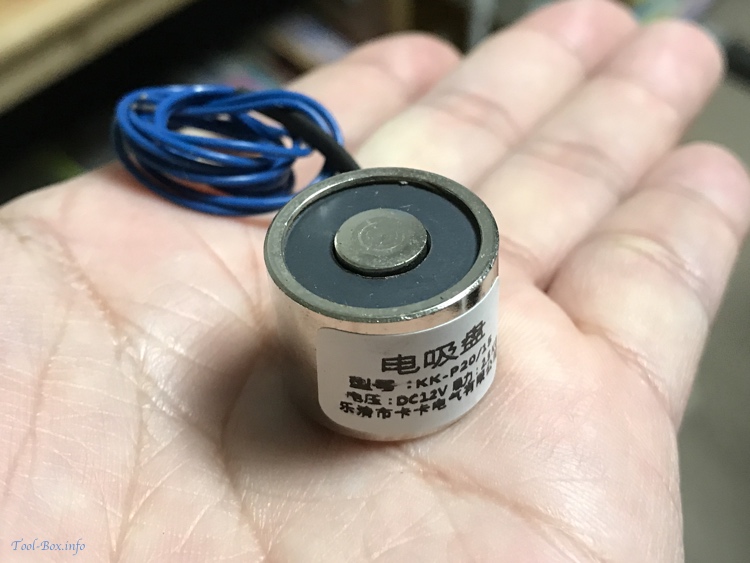 Small lifting electromagnet
SK Telecom's Smart Home device line-up was conspicuously missing a motion sensor. It would have nicely complemented the Jikimi home security devices. Considering that the PIR (passive infrared) sensor itself doesn't cost all that much (some as low as US$2) or complicated to work with, it wouldn't have been so hard to create a product out of it.
It turned out that SKT wanted that as a part of a much more beefed up home security solution called "T View Sense" that came out last month. It's a cloud-connected IP camera with the optional sensor package (motion, door, temperature/humidity, smoke, and carbon monoxide). The sensors requires the IP camera to function because they communicate to the server via the camera's integrated gateway. I appreciate the effort SKT is finally making to counter the IP camera efforts from the other mobile carriers (LGU+ had theirs since 2013), but the pricy nature of the camera (official price of KRW159,000 or about US$140) is off-putting to someone who's just interested the sensor alone.
So I decided to be a bit creative and repurpose one of the existing Jikimi devices into a motion sensor instead. Initially, I wanted to modify the SOS button because it was cheaper. But the fact that the alarm it makes doesn't get differentiated between the buttons made it a deal-breaker. With the door sensor, I needed to simulate the door closing/opening with a magnet, meaning that I could either attach the included magnet to a motor or use an electromagnet to fake such action.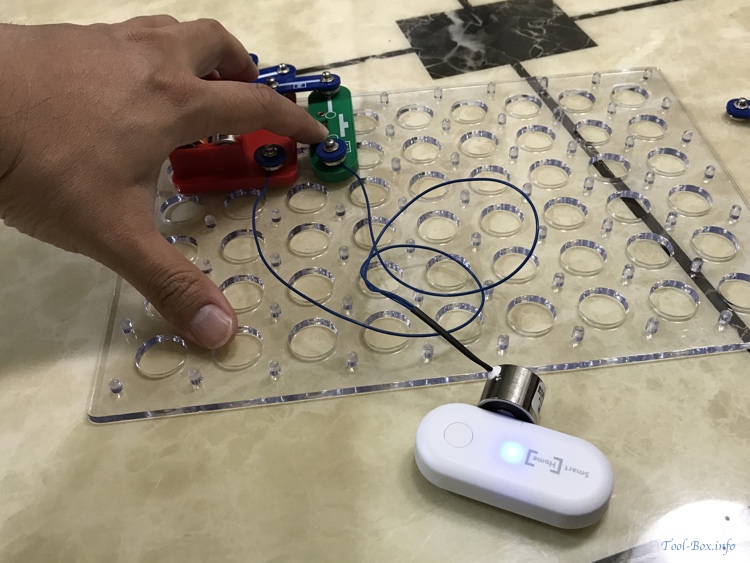 Getting the door sensor to sense the electromagnet
Obviously, I chose the electromagnet because it would be far more simpler if it worked. If it generated enough magnetic field, it would act like the original magnet and cause the sensor to send a "door closed" signal. The problem was that I wasn't sure what kind or how big of an electromagnet would be necessary. After looking at various offerings on the internet, I decided to take a stab in the dark and buy a small "lifting electromagnet" used in machines for picking up metallic items. The particular model I bought for about US$5 was rated for 2.5kg at 12V DC, consuming 3W. The model number KK-P20/15 apparently indicates a 20mm outer diameter and 15mm thickness.
12V was tad higher than what I wanted, but the electromagnet works at a lower voltage with reduced pulling power. All I needed to know was whether that pull is just enough to trick the sensor, so I created a quick testing platform with my kids' electric circuit kit. As you can see here, 3V was just barely good enough for the sensor to activate. At 6V, it worked more reliably. This confirmed two things - the electromagnet I had was fit for the job and that I could make it work with a battery pack, e.g. single-cell Li-Ion battery (3.7V nominal).
Continue reading "SKT Smart Home: making of a motion sensor"