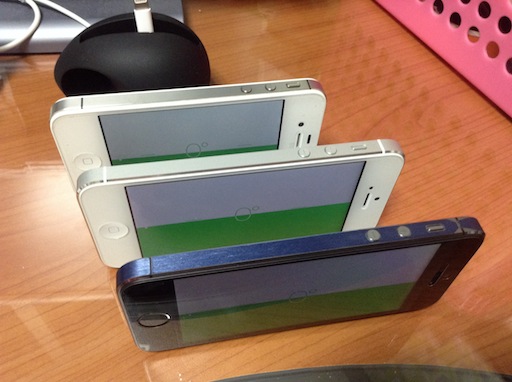 iPhone 5S (front) now reports same horizontal tilt as 5 (middle) and 4S (back)
Apple had a big product release day just a few hours ago, with new OS X, iPads, and Macs coming out. While it was left out of the announcement, iOS 7 also had a new point release just after the presentation at Cupertino ended. iOS 7.0.3 lists a lot of changes and fixes, and among them is a mention that the accelerometer calibration was fixed.
I personally checked on this issue earlier
. What better way to verify the fix than actually seeing it for myself?
As you can see, the problematic horizontal tilt measurement of iPhone 5S is now in agreement with the other iPhones. I can also hold the device up and see that it's reporting fairly accurately. Same can be said for the other measurements, which you can see if you decide to keep reading below.
It seems Apple didn't make an independent patch for this problem and instead lumped it together with other fixes since it wasn't a critical one. At least it came out just a month after the first release and before the release in Korea, so I'm glad the Korean users wouldn't have to be concerned from the get-go.
Continue reading "iPhone 5S accelerometer patched"