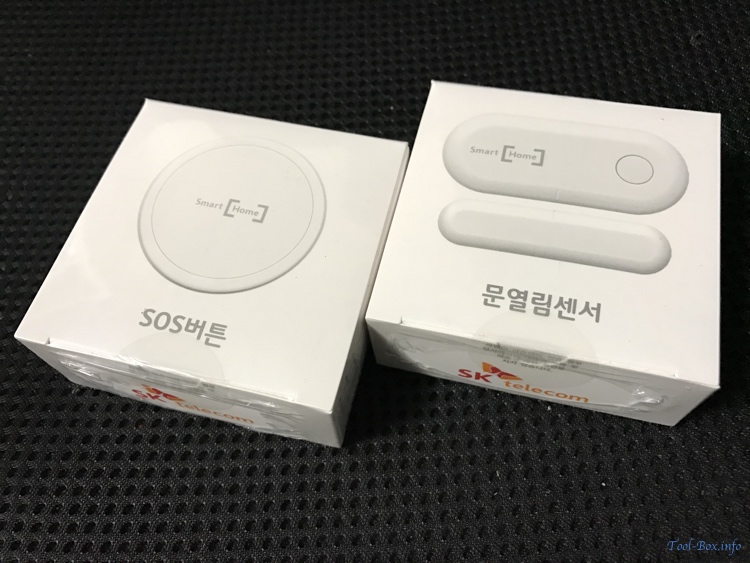 SKT Jikimi - SOS button (left) and door sensor (right)
On December 12, 2016, SK Telecom expanded its Smart Home suite by releasing a device set called Jikimi ("Protector") for basic home security. It consists of an SOS button that can notify either the police or someone you know, and a door sensor that can detect intrusion. They can be bought separately, and while the list price is KRW35,000 (US$30.70) for the button and KRW45,000 (US$39.50) for the sensor, it's currently being sold at a significant discount - KRW22,500 (US$19.70) and KRW24,000 (US$21), respectively. As far as networked sensors go, the discounted price is reasonable. I managed to buy a few of these shortly after they became available to gauge their usefulness.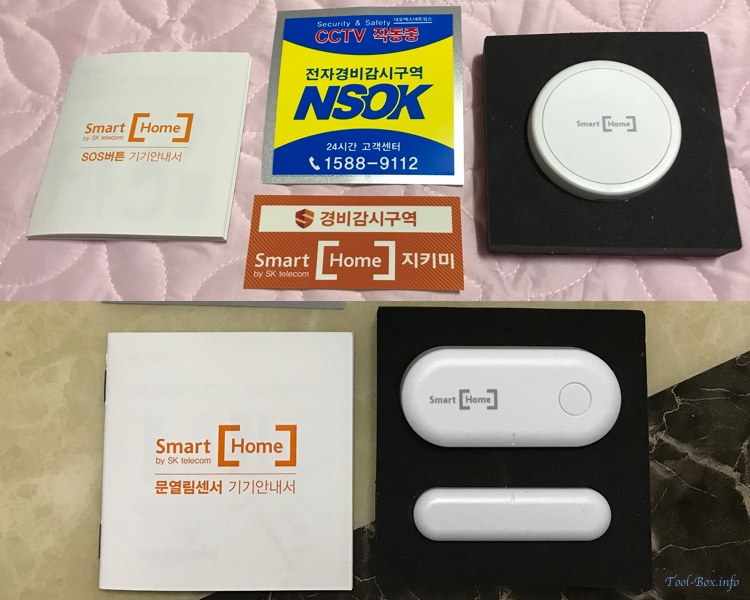 Contents of the package - manuals (left), security stickers (center), SOS button (top right), door sensor (bottom right)
Both devices come in an identically sized box roughly the size of a hockey puck. An instruction manual and two security stickers are included with each device. The stickers are meant to warn off would-be intruders. While I doubt they would be much of a deterrent, the large one refers to an actual NSOK security dispatch service for the SOS button which you can optionally enroll for an extra KRW40,000(US$35) per year. It's not available for door sensor users, but this sticker is included with that device as well.
Continue reading "SKT Smart Home: Jikimi SOS button & door sensor"