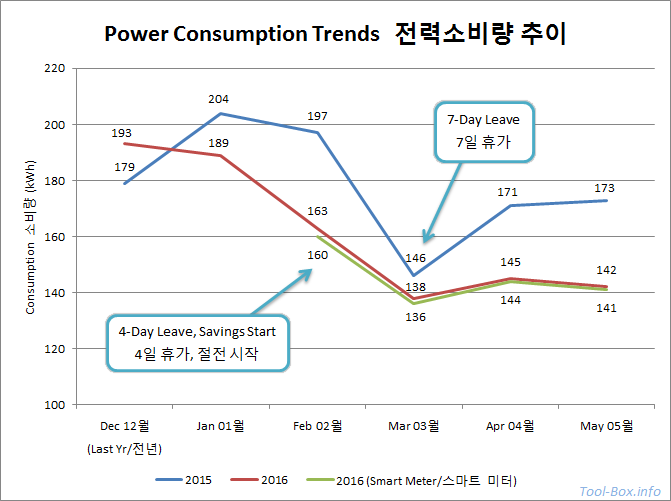 Comparison of the electric power consumption trends between 2015 and 2016
It's been about five months since I installed Seojun Smart Meter at home and took various measures to cut down unnecessary electricity use. Now was a good time to see if the smart meter was recording monthly data accurately, and whether my efforts panned out well. This graph sums up everything that needs to be said.
In terms of accuracy, the smart meter consistently reported slightly lower than the default meter installed in the premise. However, it is more less in line with the advertised margin of error (1%) after the initial month and thus I think it's reliable. This is important because the companion app effectively shows last month's finalized data a full month before it shows up in the bill, and the app also shows the forecast for this month. Now I know that these values can be trusted and I can prepare two months ahead.
Moving onto the consumption trends, my home generally spent around 190 to 200kWh in winter, then fell down to the 170kWh range in spring if the family didn't go out on a vacation. This is already somewhat below average for a 4-person family, but I started making the house even less wasteful starting in February this year by
making more efficient use of the appliances
and
changing the lightings
and bulbs to LED
. Eventually, it has settled to somewhere between 140 to 150kWh per month now. This is a saving of roughly 30kWh, or more than 15%.
Thanks to this and being much more aware of the consumption in real time, I'm expecting about 30% savings in electricity costs in the summer when the air conditioning is in full operation. Home electricity rates in Korea is pseudo-exponential, so you pay a lot less for seasonal increase if you start out from a lower baseline. Recently, I helped my dad cut down power use at his house by lowering the baseline by roughly 200kWh and I think it'll save him at least US$300 per month during summer. I'm expecting that the money that went into the streamlining will pay for itself in 3 years. Overall, I'm satisfied with the results of the efforts I put in.