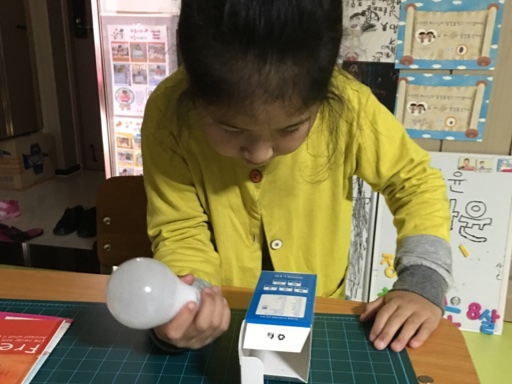 So we're getting LED bulbs, too?
After
successfully deploying LED lamps across the FPL lamp fixtures
, I thought that the lamps installed in the traditional screw-in sockets should be replaced as well. Ever since these lamps started to go mainstream about 5 years ago, the price kept dropping and the choices kept on growing. This meant that it was a good time to make the move.
Comparing the various offerings on the market, I ultimately settled on the BEAM series of lightbulbs from Sigma LED (formerly Sunsea). They were among the brightest for the rated power, yet priced competitively. Both the 8W and 10W versions cost me about US$3.75 (KRW 4,500) per bulb.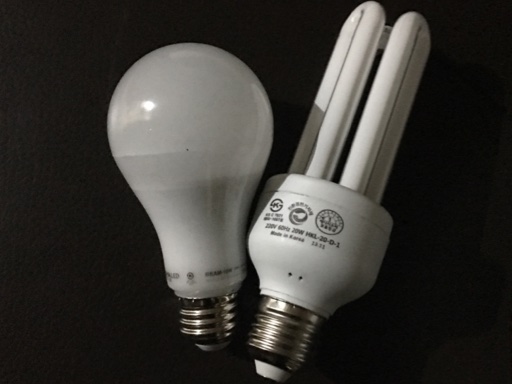 The new versus the not-so-old lightbulbs: Sigma LED and Hankuk CFL
They were set to replace the 20W compact fluorescent (CFL) bulbs made by Hankuk Lighting and installed throughout the house by default. Here is how they compare.
| Name | Type | Dim. (mm) | Power (W) | Lum.Flux (lm) |
| --- | --- | --- | --- | --- |
| Hankuk HKL-20-D-1 | CFL E26 | 54⌀ x 161 | 20 | 1220 |
| Sigma BEAM-10W | LED E26 | 65⌀ x 122 | 10 | 1024 |
| Sigma BEAM-8W | LED E26 | 60⌀ x 108 | 8 | 744 |
The LED bulbs are shaped closer to the traditional incandescent bulbs, making them thicker and shorter than the CFL ones. Because of the larger diameter, some of the fixtures that were designed only with the CFL in mind may have trouble taking in the 10W ones. This is why I got 8W ones as a fallback.
Meanwhile, the spec comparison reveals a similar trend seen with the longer cousins. The LED bulbs meant to replace the CFL comes in at about half the power consumption and slightly lower total amount of light. I'll be checking if the reality reflects these numbers, of course.
Continue reading "Now switching light bulbs to LED"