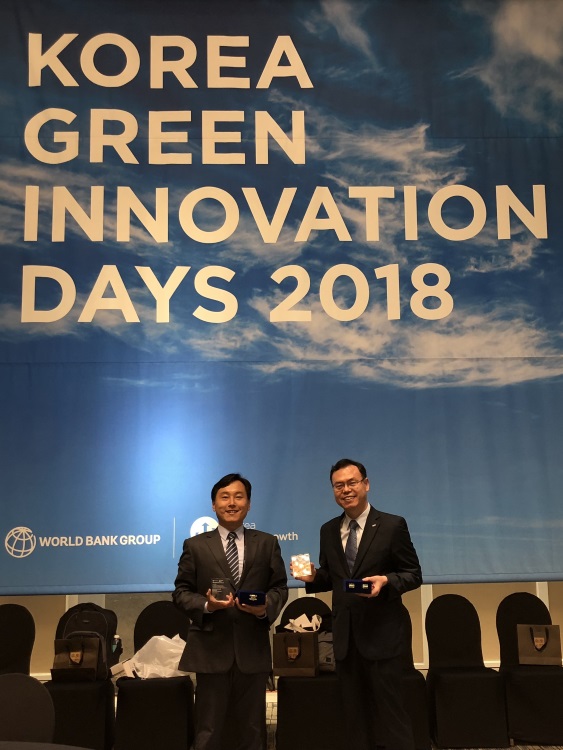 Me and the head of KPX Training Academy received awards at KGID 2018
As the one responsible for the foreign relations and overseas training at the KPX Training Academy (formerly KPX Education Center), I had been cooperating with the Korea Green Growth Trust Fund (KGGTF), a part of World Bank Group, in running their Korea Green Growth Knowledge Exchange (KGGKE) since early 2017. The program provided by KPX within KGGKE introduces the how the electric power market and the system (power grid) is operated, how the short and long term planning is done, and what efforts have been taking place in regards to the renewable energy. Most of the participants have reacted positively to the our program.
In extending this cooperation, I was invited to the Korea Green Innovation Days (KGID) 2018 event held between May 17 and 18 in Seoul, hosted by the World Bank Group and KGGTF. There, I was given the opportunity to introduce the overseas training programs offered by the KPX Training Academy to the participants of the event at one of the working sessions. Several countries have shown interest in starting discussions for new programs.
Recognizing all these efforts, my company and I were awarded the KGGTF Partner Award (received by the head of the Training Academy, Mr. Bae) and the KGGTF Green Connector Award, respectively, at the end of the event. I thank everyone at my company that helped putting together and running the programs successfully. Several Korean newspapers have reported of this occasion.
-
Electric Times
-
E2News
-
Today Energy
-
Business Korea