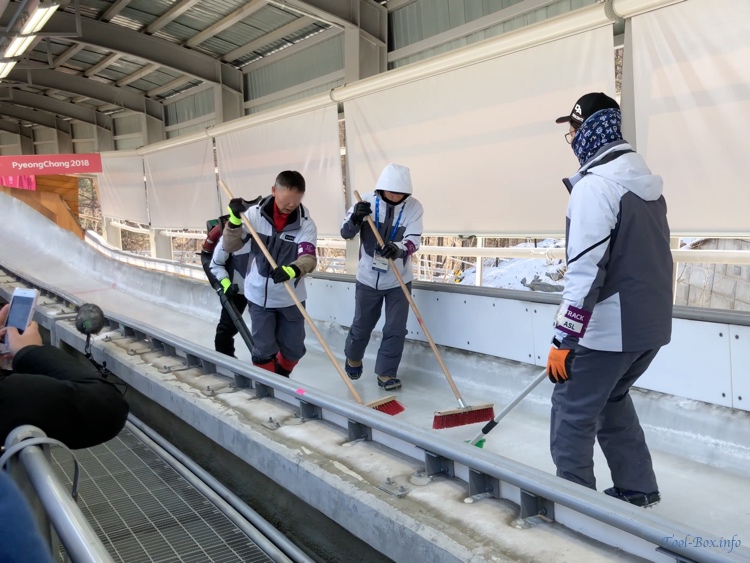 Witnessing the track being manually resurfaced after the third heat of the Men's Skeleton
An ice rink is generally resurfaced by driving a "Zamboni (ice resurfacer)" around. When I heard that the ice track was going to be resurfaced before the start of the 4th heat of the Men's Skeleton event, I wondered if a similar machine existed that went around the track. But it seems that the technology has not progressed that far yet - a group of men with hot air blower and brooms were sweeping and smoothing the track from the start to the finish. It was the one interesting moment in the otherwise uneventful 45-minute break before the final run that would determine the medalists.
4th heat snapshots - Yun Sungbin (top, gold medal) and Kim Jisoo (bottom, 6th place)
Starting at 11:15AM, the top 20 racers participated in their 4th heat in the ascending rank order. Korea's Kim Jisoo was lined up to be the 15th to run, while the already-dominant Yun Sungbin would race the last. As the racers went past the finish line one by one, the excitement grew. With the cheering crowd, Kim Jisoo put up a respectable performance and held onto his relative position. And on the final race of the event Yun Sungbin amazed everyone with a flawless, untouchable run. He was ahead of the 2nd place by a total of 1.63 seconds, which was massive considering Martins Dukurs lost out on a medal by a mere 0.11 seconds.
The whole place went wild, and we were elated to be witnessing such a historical event up close. It was the first time an Asian athlete won medal a sledding event in Olympics. Who would have thought that the colour of that medal would be gold, and that it would be won in such a dominant manner?
Continue reading "Attending PyeongChang 2018 - Golden Run & Gangneung"