Inserting an LTE-ready SIM card on the iPhone 6 Plus
LTE frequencies tend to be quite varied because it has to be either laid alongside or replace the existing 2G and 3G networks. Even so, Apple tries to support as much frequencies as possible because it will reduce the number of region-specific models. Unfortunately, iPhone 5S and 5C each sprawled to five different models, so people asked around whether their iPhones would work on another country's LTE network. I even wrote about
iPhone 5S's LTE network compatibility
last year, and it has the longest comment thread in this website.
This time around, though, the number of models were reduced to a much more manageable two for both iPhone 6 and 6 Plus. The
massive 20-band support
did the trick. The good news here is that,
if you bought an unlocked iPhone 6 or 6 Plus anywhere in the world and come to Korea, the LTE will work with all three local carriers
. Korea should get A1586 / A1524 models on sale in a couple of months, but A1549 / A1522 models often found in United States or Canada should work, too.
After I brought the A1524 iPhone 6 Plus from Japan to Korea, I put the SIM card from my 5S and turned it on. The device had no problems connecting to SK Telecom's LTE network right away. I've confirmed that the situation is the same when you're on KT's network, as well. It seems that the network no longer goes into 3G mode when it sees an unrecognized LTE device, which used to be the case when I brought the iPhone 5S from United States last year.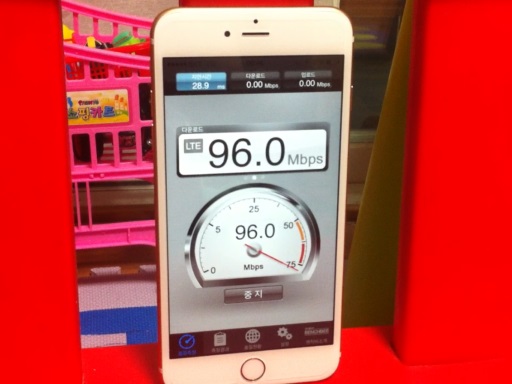 iPhone 6 Plus hitting 96Mbps download on LTE
Meanwhile, the top speed for LTE data on iPhone 6 series was pushed to 150Mbps from 100Mbps of 5/5C/5S. The bleeding edge phones in Korea are always a step ahead - 150Mbps was possible when iPhone 5 came out and the recent models can do 225Mbps - but with low monthly data caps, they are little more than technology show-off right now.
In any case, I wanted to see how fast the iPhone 6 Plus can do LTE data in real life, so I ran a speed test app. As you can see here, it can go almost up to 100Mbps. Pretty good, but that's how fast an iPhone 5S could supposedly do, as well. Obviously, a side-by-side test was needed.
Continue reading "iPhone 6 Plus - LTE Compatibility & Speed"